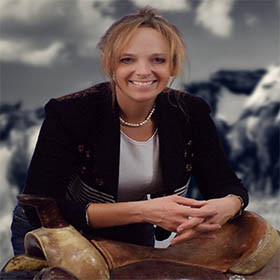 #Followers: 9
Follow
Anna Elizabeth Judd
Author
ABOUT THE AUTHOR
Anna provides it all as if you are in the saddle along for the journey. Her rare books bring the readers joy from nearly every genre they can appreciate. She exuberantly brings the image and sentiments of the west to full life throughout the storyline. Yet, at the core of Judd's work is a black stallion who engages life into every aspect of the book. Haystack fills children's minds with wonder as he interacts with Marshal Spur and the Outrider Gang, to the mild minored young steed who brings Adam to new levels of learning in his life. Then he is brilliantly portrayed as a beautiful Appaloosa stallion in the Broncobuster as Cash. Anna is one of the greatest novelists and a freelance ghostwriter is known for equestrian professionalism in every genre. Her young adult fiction novels and all books bring joy to the readers.   Lizzy is the founder of Writers Publishing House/Ghost Writer Media, who writes under her pen name Anna Elizabeth Judd, a solid publishing firm with more than a decade of assisting clients will their publishing needs. She has a BA in fine arts, with a minor in Equine Science. On the side, she studied at Scottsdale Art Institute under Robert 'Shoofly' Shufelt. Lizzy writes books, which considering this website, makes perfect sense. She is best known for ghostwriting various best sellers in all genres. Along with her novels based on the initial part of her working career, horse training. As she understands the importance of family values, Lizzy chose a pen name borrowed from her family tree, Anna Elizabeth Judd.When not absorbed in writing for clients, Lizzy can be found hiking, biking, or any outside activity. Although she does not train horses any longer, their spirits will always be a part of her soul. As a passionate entrepreneur Lizzy understands the importance of exemplary customer service, it is the basis for any successful business. In this case, Writers Publishing House was founded on the idea that the focus must be on the client's success. She believes, "Everyone should profit from their passion."If you want to know more about publishing a book, please visit her website at https://writerspublishinghouse.com  where you can contact her about starting your book project today.
Tell us a little bit about yourself, your hobbies and interests.
Beyond training horses, I love to hike, mountain bike, garden and spend quality family time. Plus, I love to paint, woodworking, and completing my the House that Jack Built Saloon dollhouse.
When and why did you start writing books?
I started writing in 2007
What made you decide to tackle writing as a career?
I love to write
Which one of your books or characters is your favourite?
My favorite character is Haystack. The black Apaloosa Quarter Horse
Which one of your books was the hardest to write and stretched you the most as a writer?
The Handboook of Horsemanship
Who is your favourite author and book?
Catherine Ponder
What book are you reading right now?
The Portal of Time by Brain Jay Nelson
Where do you get your inspiration for your books?
Life experiences
What do you enjoy doing in your spare time?
paint, draw, write, garden
Do you have any new books in the works?
The Adios, and IAM, Marshal Spur and the Outlaw - Chroncile Two "The Hourglass"
Books by Anna Elizabeth Judd