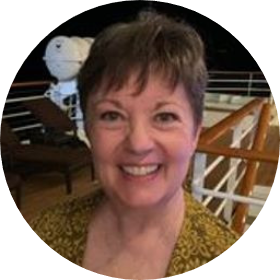 Pat Adeff writes sweet romances about second chances - with just a hint of spice!
She's also written several laugh-out-loud comedies which have been produced in theaters from California to New York. She loves writing, reading, and cooking. If you sign up for her newsletters, you'll probably find a few of her favorite recipes attached.
Pat is an incurable romantic and definitely believes in second chances and happily-ever-afters. In fact, several years ago she found her own second chance! She and her composer husband recently moved from NYC to Largo, FL and are enjoying the sunshine!
https://www.patadeff.com
Second Chances DO Happen Series: amazon.com
Book 1 - Take Another Chance
Book 2 - Mahi-Mahi Matrimony
Book 3 - The Romance Writer and the Geek
Book 4 - Doctor's Orders
Book 5 - In His Arms
Book 6 - A Christmas Kiss
Boxed Set - https://www.amazon.com/dp/B0BSMGK585
© 2023 CraveBooks. All rights reserved