When it comes to anxiety and depression, the more tools in your toolkit the better. And there's comfort in knowing that a single book contains vast amounts of research and wisdom presented to you in a way you can understand.
Anxiety is the most common mental health issue facing Americans today, according to the Anxiety and Depression Association of America (ADAA). At least 18 percent of adults suffer from anxiety or depression. 
Whether you home in on a specific page or go chapter by chapter, books can be an excellent way to learn about anxiety. It can also develop life-changing coping skills to help you navigate those challenging moments – no matter where you are or in which situation. 
5 Best Books For Anxiety
Sold in 32 countries worldwide, this book focuses on confronting anxiety instead of avoiding it. So grab the book and start reading it if you're tired of just managing your stress and want a powerful solution to it. 
Author Barry McDonagh, who has over a decade's experience in the field,  explains techniques based on hard science in his latest book. Everyone can use these techniques, regardless of age, sex, or background. 
If you love to read books, you can get this book on CraveBooks.com.
This book by Judson Brewer, a bestseller available in over 15 countries, has sold over 1.5 million copies in one year alone.
This book focuses on opening up people's minds by providing solutions and different ways to deal with the problem they're carrying within themselves. The goal of the book is to create a new you. It also gives you the confidence to deal with the problems you face every day.
Available on CraveBooks.com, this one comes highly recommended if you're looking for new techniques for dealing with anxiety.
This bestselling workbook by Edmund J. Bourne is sold in many countries worldwide and has impacted many readers of all nationalities
Designed to help you get through the anxious periods in your life, the book also helps you face larger issues like pandemics, something we can all use a little help with at the moment.
It helps to clear your mind from anxiousness or anxiety because it stops the rations thought process of the brain. This book gives the map to the brain to discover the triggers. And tells how to defuse those anxious thoughts to clean up the brain and get good ideas. 
Reader happily says goodbye to his problems after reading the book and asking others to read for their benefit. The book changed the reader's life as he accepted that it was not his disability. 
This book, as its title implies, aims to help you regain your hope when you're feeling lost and find strength when you lose your nerve.
The book also includes case studies from actual patients, some of whom thought recovery impossible. Thanks to its easy to follow, step-by-step guide, Dr. Weekes' book has become a favourite amongst readers.This book teaches you to recognize symptoms of anxiety, examine them, and equip you with the power to conquer your fears.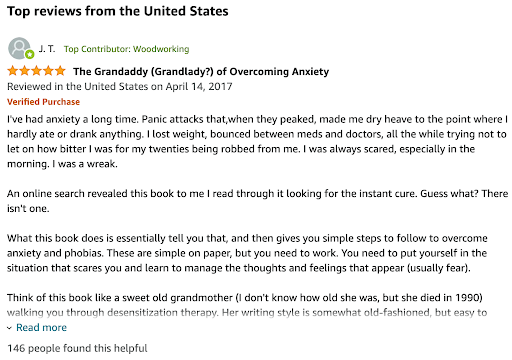 Reader J.T. commented while sharing his own experience pleasing the book as it changed his life. He also added that the book would teach you how to manage your thoughts and feelings of fear that appear.
Authors S.J. Scott and Barrie Davenport use the pages of this self-help manual to teach you how create the mental space needed to enjoy inner peace and happiness. It aims to guide you in prioritizing the most important things in your life while also how to live your daily life.
This book comes with a formidable list of promises and was described by one reader as a tool for cleaning up mental clutter.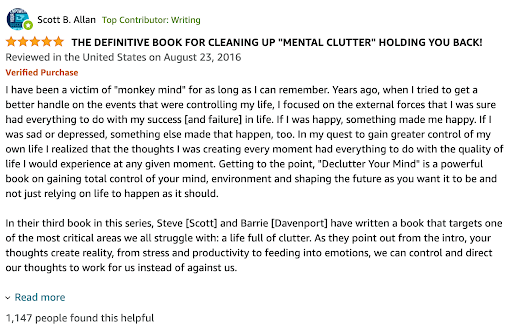 The reader tells about how the book opened up his mind by providing solutions to its problems. The book also taught him to be happy in any situation and to accept challenges in life to overcome them.