Despite changing trends, one thing that always remains constant is that reading is good for the brain–especially the young, developing brain. Developing a strong reading habit at a young age will benefit you in all aspects of life and create a more well-rounded individual. While the temptation is there to get lost in the latest gaming app, try to resist and get lost in a great book instead. There is so much more to gain. Despite changing trends, one thing that always remains constant is that reading is good for the brain.
If you're ready to open your mind to new adventures, learn about different people and cultures, learn how to deal with whatever life has to throw your way, it's time to pick up a book. We've put together a list of some of the best books for young adults, so read on!
Best Books For Young Adults To Read
This book Anne of Green Gables was written in 1908 by Canadian author Lucy Maud Montgomery. This book follows the adventures of orphan Anne Shirley, who was sent to live with a pair of siblings who were actually looking to adopt a young boy to work on their farm. 
While initially dead set against keeping her, the Cuthbert siblings learn to love Anne in their own way and the three of them form a unique family. At the same time, Anne learns to make her way in the town and amongst her peers at school. It's a wonderful glimpse of a simpler life. 
This is a book beloved by thousands of readers all around then world. It's been translated into more than 30 languages and has had film and television adaptations made, most recently Anne with an E on Netflix.  It also led to other stories in the same universe, like Road to Avonlea. 
If you've never read Anne of Green Gables, you can pick up a copy at any retailer, including right here at CraveBooks.com.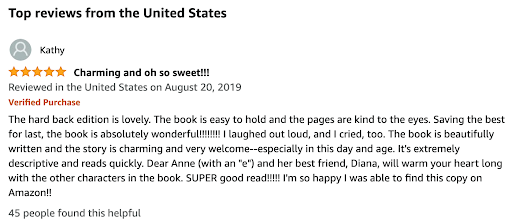 Starting with a positive comment by our reader Kathy as she says that the edition is lovely and wonderful, the book is easy to hold, and the pages are kind to the eyes. Kathy is also expressing her emotions by saying that she laughed too much and loud and cried while reading it. It's really good to read. 
This book tells us the story of four sisters and a mother and the complex problems. And how they grew up during the Civil War in America. The book also tells us how the family goes through difficulties and how they try to fulfil personal ambition instead of complaining. 
Meet Meg, Jo, Beth, and Amy and take the time to fall in love with each one of them while you figure out which one is your favourite. Tackling themes of family, love, and relationships, it's a book to be read and reread over the years. The book itself never changes, but our perspective on it does and each time we can take something new from its pages. 
This is a great read for those who are interested in history and family dynamics, even for those who just love a fabulous story. There's a reason so many film adaptations have come about–it's a timeless classic for the ages. When someone mentions young adult fiction, Little Women is likely one of the first books to spring to mind. Louisa May Alcott's seminal tale of four sisters growing up during the American Civil War is a mainstay of English literature. 
Pick up your copy of Little Women on CraveBooks.com. 
Our reader Susie says it's a classic which is mainly told in two parts. The reader is saying that it is an excellent book. It's worth your time with a fantastic story to read. 
This book tells us about a young girl who is also the book's author. It tells us about how in 1942, Nazi's occupied Holland, how a thirteen-year-old Jewish girl with her entire family ran away from their home in Amsterdam, and how they went into hiding. 
When the Nazis marched into Holland, a significant number of Dutch took it upon themselves to protect their Jewish neighbours, regardless of the potential cost to themselves. Reading through Anne's diary, it's remarkable to realise that she was an ordinary person, just like us, who was concerned with ordinary things, like fashion and celebrities, even at the height of the German occupation. Another classic, Anne Frank: The Diary of a Young Girl is the only book on this list that isn't fiction. Written by Anne Frank herself, it tells the story of how she and her family hid in the attic of a friend's house during the Holocaust. 
 The author wrote how they lived in a building, and their connection from the outside world was off. Also, how they face problems like hunger, boredom, the constant cruelties in cramped apartments, and the fear of discovery and death. These expressions and experiences were recorded by the author Anne Frank.
Reading these pages should be mandatory school reading, and in many places it is. At a time where large segments of the population deny the Holocaust ever existed, books like this bring us closer to understanding our history…with the aim of never having to repeat it. 
The New York Times praised The Diary of a Young Girl by commenting, "A truly remarkable book."
Pick up a copy of Anne Frank: The Diary of a Young Girl at CraveBooks.com and meet a different kind of heroine.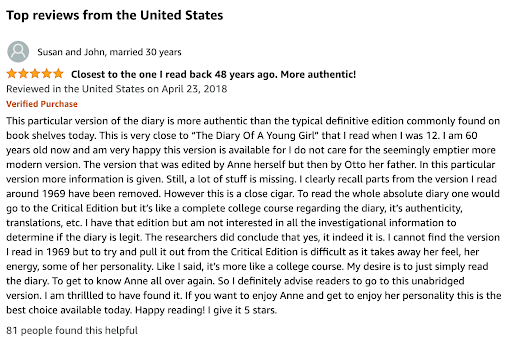 Susan and John say it is a realistic book based on a real story or incident written by a 13-year-old girl. Also, she says that she is thrilled to have found it. And she is saying that it is a Happy reading and gives it five stars. 
This book is written by a well-known author E.L.Konigsburg. This book's story revolves around a girl named Claudia. When she decided to run away from home and family, she planned carefully to teach her parents a lesson. Also, she would go in comfort and live at the Metropolitan Museum of Art. She saved her money and invited her brother Jamie to go with her because he was a niggard and would have some money. 
E.L. Konigsburg tale is loved by many and plays on the common fantasy of running away from home when we feel our parents don't love or understand us.  The adventure begins as the siblings learn to navigate the museum during its off hours in order to survive without being detected. Somewhere along the way, they get entangled in a grand mystery involving classical art.
This 1967 young adult fiction novel follows the adventures of young Claudia Kincaid and her brother Jamie when they run away from home and take up residence in the New York Metropolitan Museum of Art. 
You must go and read this book which you can get on CraveBooks.com. You can buy from there at a reasonable price. If art and adventure are your thing, grab your copy of From the Mixed Up Files of Mrs. Basil E. Frankenweiler at CraveBooks.com.
The story revolves around James Tillerman and his sisters and how their mom abandoned them in a mall parking lot somewhere in Connecticut. And how they found their way to Great-aunt Cilla's house in Bridgeport. The central part of the story is how they survived, which is highlighted. 
The story revolves around a group of four siblings who try to make their way to their Great Aunt Cilia's house in Bridgeport after their mother abandons them in a shopping mall parking lot in Connecticut. Taking a Wizard of Oz type journey through the state, they encounter strangers along the way who help them on both their literal and figurative journeys. 
Battling terrifying obstacles like hunger and physical danger, the siblings manage to find their way only to discover a whole other journey awaits them on the other end. 
This young adult novel from 1981 by author Cynthia Voigt is the first in a series of seven books that make up the Tillerman Cycle. 
See Gee with a positive comment saying that the book is really good. And asking young teens to read it will help them become the best of themselves.