The Best eBook Marketing Platform For Authors In 2022
So you're an indie author, you've set up your account on Crave Books, and…now what? 
We realize that getting comfortable on a new platform can seem a little overwhelming, so we've put together a quick checklist of things you can do to make the most of services we offer. 
Ready to get started?
Author Profile
When you create your account, minimal information is input into your profile. The first thing you want to do is complete that profile as much as you can, ideally to 100%. By doing so, you'll enjoy the following advantages:
Author page will appear higher up and more often in searches
Ability to connect and engage with readers
Encourage your readers to follow you, leading to more books sales
Allow your readers to find and follow you on social media
Improve your ranking on search engines
These are some major benefits for very little work on your part. You can fill out your profile here .
Author Interview
On the left side-bar menu, you'll find the option for an author interview. You definitely want to fill this in. This is a free service we offer that allows readers the chance to get to know their favorite authors a little better.
In addition, once your interview is completed and your profile is 100% filled out, you can apply to be interviewed for the Crave Cast podcast In addition, you can also secure a podcast interview by booking it at the same time as your next promo.Share on Social.
One of the keys to success is to be where your readers are, and since they might be anywhere, it's good to have your bases covered. Once your profile is complete and your books uploaded, sharing your Crave Books profile on your social pages gives your audience yet another retailer on which to find your books. 
Crave Books Podcast
One of the most recent additions to our site is our podcast, Crave Cast, which allows readers to discover new authors in their preferred genres as well as learn more about the authors they already love.  
This is a growing community you definitely want to be a part of, as it will allow you to increase the reach of your books and your brand. Sign up here.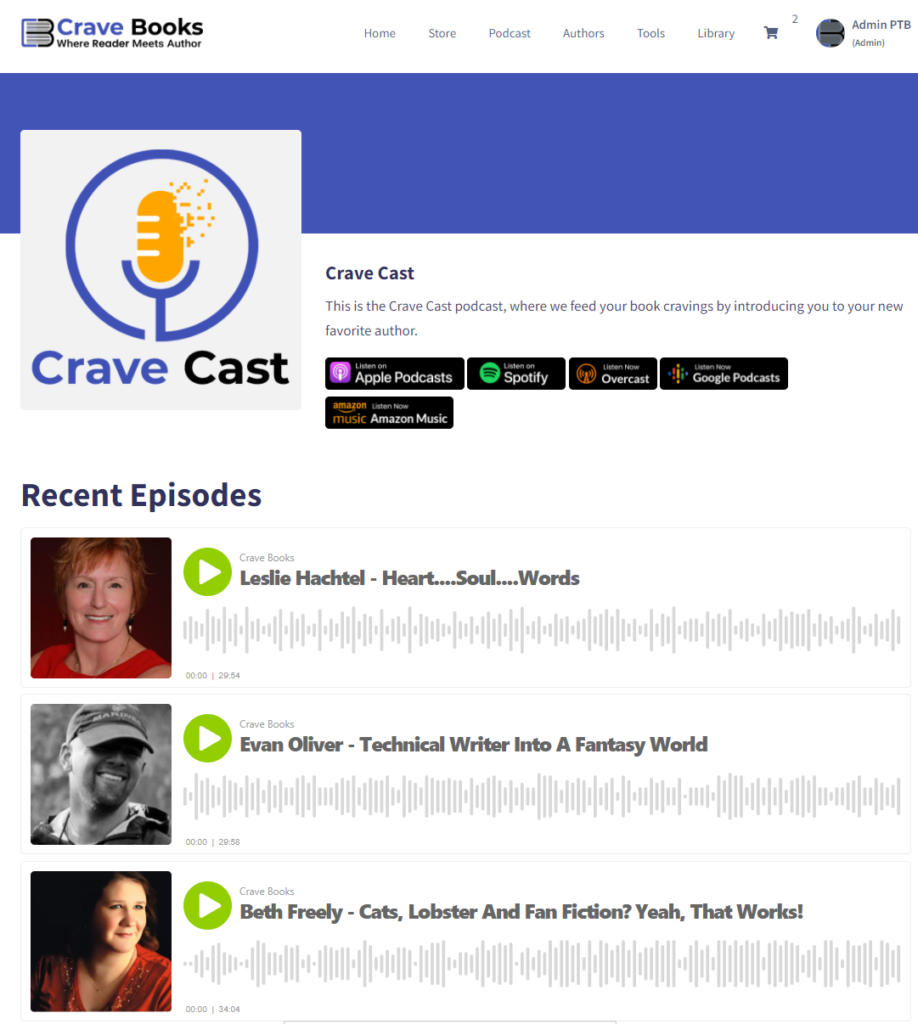 Refer and Earn
As a writer, it's always a good idea to diversify your income streams. This is why we're happy to introduce our new and improved referral program. 
By signing up and referring us to your friends or simply pasting a link on your website, you can earn cold, hard cash. For every client you refer, you'll receive 30% commission on their first two bookings. After that, you'll earn 3% on each booking, in perpetuity. It adds up fast. You can sign up here.
Industry Marketplace
Are you looking for beta readers or an editor? Maybe you need a cover designer or someone to format your manuscript. Look no further than the Crave Books Industry Marketplace, where we've gathered over 1000 professionals to help make your book a success. 
From virtual assistants to ghostwriters, from editors to designers, you'll find it all at your fingertips.
Smart Promotion
Tired of logging into one website after another and uploading your book's metadata over and over again? With Crave Books Smart Promotion, you can find a wide array of promotional newsletters in one spot, allowing you to pick and choose your favorites and only upload your details once.
With opportunities for every budget, our site allows you to promote your books across a wide network of up to 1 million viewers!