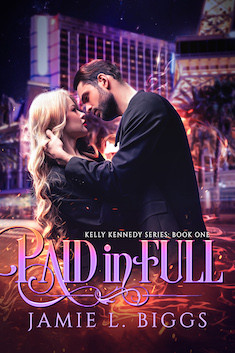 Paid in Full: A Vampire Romance Novel (Kelly Kennedy Series Book 1)
$3.99
(Please be sure to check book prices before buying as prices are subject to change)
I'd planned to leave Las Vegas the moment I turned eighteen, before my father could gamble away every last thing we owned. 

I wasn't fast enough.

Now, a sinister man called Finn has come to collect on my penniless father's debts - and since money isn't on the table, he's demanding a different form of payment, instead.

Finn's demanding me.

But Finn isn't the only one calling dibs on me. Before he can take delivery, a different mysterious stranger steals me away, instead.

Grant Cooper.

Impossibly wealthy. Irresistibly attractive.

Undeniably undead.

But vampire or not, Grant makes me breathless. His presence leaves me shivering. His piercing green eyes see straight through me. I feel so protected in his presence that I'm even willing to humor all the nonsense he tells me.

Like how I'm special. 

How I'm different. 

How I'm his Fated Mate.

And the worst part of his insanity? That the longer Grant protects me from Finn, the less ridiculous all that sounds.

I'm a tough, independent girl. The idea of any man owning me should be repellent - especially after how my father literally gambled me away!

But somehow, with Grant, it's different.

However, Fated Mate or not, there's unsettled business to be taken care of before he and I can be together.

Finn isn't going to surrender his claim to me so easily - and as a vampire himself, he's perhaps the only man in Las Vegas even Grant should be afraid of.

These two powerful creatures are about to come into brutal conflict with each other - and whichever one survives will claim me as their prize! 


Paid in Full is the first in the Kelly Kennedy Series by Jamie L. Biggs - a fast-paced love story set within the seductive, supernatural underworld of Las Vegas.
Digital Books

Book Length: Novel – 150-320 Pages
Leave a review about Paid in Full: A Vampire Romance Novel (Kelly Kennedy Series Book 1). Login Now