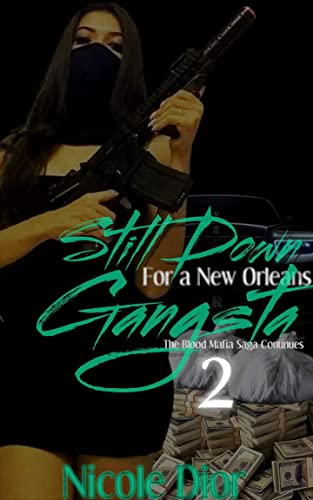 Still Down for a New Orleans Gangsta 2
By Nicole Dior
Free

$3.99

(Please be sure to check book prices before buying as prices are subject to change)

---
Synopsis: When Supreme and the guys are locked away and awaiting trial, A'Khyia steps up to the throne and takes her husband's place as the new head of the Blood Mafia Family. With help from Dice, Sirius, Ice, and Snipe; A'Khyia manages to take the organization to a whole new level on the legit side of things while still being active and handling issues and beefs on the illegal side of things. But, as usual, with new power and money comes new enemies and drama as the members of BMF continue to look over their shoulders as they still have old enemies in the streets and never know when they'll strike.

After two and a half years away from their families and loved ones, Supreme and his team are finally free and ready to get back to business. After finding out about the shooting that took place outside one of their trap houses, Supreme asks his wife to step away from the streets and put her focus back into the legit businesses as well as their children. Now being four months back home, Supreme finds that his organization has taken a few hits on Havana's behalf after it is discovered that she is secretly in cahoots with the Haitian Cartel that has it out for the Blood Mafia Family.

Sapphire and Rook managed to survive his two-year jail sentence. Now that he's back home for good, the two are happier than ever as they enjoy parenthood with their sons, Chance and Chosen while planning their upcoming wedding. Sapphire finally accepted that Rook will always be a huge part of Blood Mafia and decided that she'd rather deal with his hectic lifestyle with him, than do life without him.

What happens when everyone is in their own worlds, but quickly become tangled up in the same madness once again? Find out in the finale of Still Down for a New Orleans Gangsta!
Read More...
---
---

© 2022 CraveBooks. All rights reserved