Will You Survive?: A Survival Guide to Prepping for Disaster & Emergency Situations
Will You Survive?: A Survival Guide to Prepping for Disaster & Emergency Situations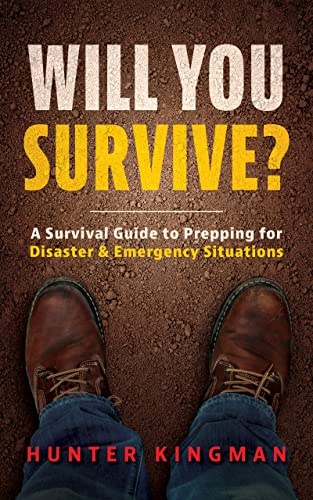 Will You Survive?: A Survival Guide to Prepping for Disaster & Emergency Situations
By Hunter Kingman
Free

$0.99

(Please be sure to check book prices before buying as prices are subject to change)

---
Do you have a survival kit ready for any type of disaster that might strike? If you don't, then the right time to do it is now, and this book will be your guide every step of the way. It has everything a family needs to know in order to stay prepared for any unexpected situation.
When a disaster strikes, all the public services that you can usually access are hampered. You are often left to fend for yourself. In the absence of proper preparedness, this could increase your chances of getting hurt or, even worse, death. But following the simple steps mentioned in this book, you will know exactly what you should do in case a disaster strikes.
Will You Survive? A Survival Guide to Prepping for Disaster and Emergency Situations has valuable advice on –
Stocking up on emergency supplies and key tools
Learning how to construct a shelter or start a fire
Hunting and gathering food
Basic knowledge of treating common wounds
Extra tips on dealing with different natural and man-made disasters
And more…
Once you finish reading this book, you will acquire a self-reliant and confident mindset whereby you won't give in to panic and full-blown fear even in the face of adversity. So, it's time for you to ditch the paranoia and start preparing yourself for any natural or man-made disaster that might strike.
Read More...
---
---
Leave a review about Will You Survive?: A Survival Guide to Prepping for Disaster & Emergency Situations.
Login Now

© 2022 CraveBooks. All rights reserved