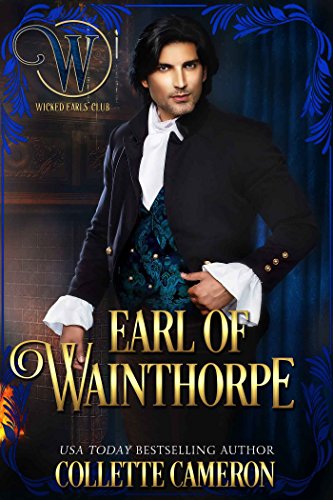 Earl of Wainthorpe: Wicked Earls' Club, Book 3 (Seductive Scoundrels 8)
$4.86

(Please be sure to check book prices before buying as prices are subject to change)

---
Could she ever love the unrepentant rake who won her in a wager?

He didn't gamble on losing his heart when he won her at the gaming tables.
Pierce, Earl of Wainthorpe has finally thwarted his worst enemy. Except, he can't revel in his victory after winning his foe's ward in a winner-takes-all wager. If Pierce refuses to assume Bianca Salisbury's guardianship, the fiery-haired beauty with a matching temper may very well find herself sold to the highest bidder.

The shameful secret she guards makes it impossible to love a rogue.
Desperate to escape her blackguard cousin, Bianca Salisbury ventures to London to find a husband or employment. Instead, she's bartered to a notorious rakehell. She either risks being compromised and accepts The Earl of Wainthorpe's protection or flees him and her guardian. But without money and a place to go, she fears she'll face the same tragic fate as her mother.

To protect Bianca from her cousin, Pierce spirits her to his secluded country estate. Neither he nor Bianca is prepared for their growing attraction and both dread the day he returns to London while she remains in hiding. Can Pierce persuade a wary Bianca to trust a reformed rogue, or does he depart, leaving his heart and love behind?
Read More...
---
Paperback Books
---
Audiobooks
---
---
Leave a review about Earl of Wainthorpe: Wicked Earls' Club, Book 3 (Seductive Scoundrels 8).
Login Now

© 2022 CraveBooks. All rights reserved