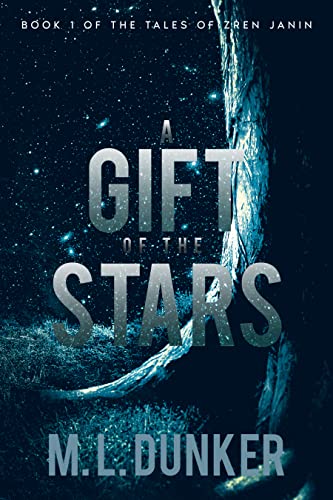 A Gift of the Stars: Book 1 of The Tales of Zren Janin
By M.L. Dunker
$0.99
(Please be sure to check book prices before buying as prices are subject to change)
Kerek City can be cruel and every abandoned child in Lowertown learns quickly to avoid a dance with Trouble. Like the others, Red does what he must to survive. Until one day when life goes horribly wrong.

A boy is found by the side of the road. He is about 17 years old, with skin the color of cinnamon, and the too-thin look of one who lives on the streets. He has been beaten badly. Do you stop? Or not?

When Red awakens at the side of the road to Aldi, he knows he has one chance to convince those who have rescued him to take him along. At the mercy of two West Islanders after they save his life on the road, Red travels with them on the treacherous and violent road through Kerek, where the three must use their skills and wits to find a way that won't leave them dead.

As mystery continues to shroud his companions, Red realizes there is much more to the diverse cultures and people they encounter than he had been led to believe.
Is life outside Kerek City really what it seems, or is there more to his world—and even his own past—than he could have ever imagined? And how far is he willing to go to learn the answers, when trusting the wrong people might cost him his life?
A Gift of the Stars is the first book in The Tales of Zren Janin series, an alternate world with multiple cultures, languages, political intrigue, and mythology. A story of adventure, fantasy, and the road to understanding how to accept those that are different—including ourselves.

Digital Books

Book Length: Long Novel – 320-650 Pages
More Books in this series from M.L. Dunker
Leave a review about A Gift of the Stars: Book 1 of The Tales of Zren Janin. Login Now