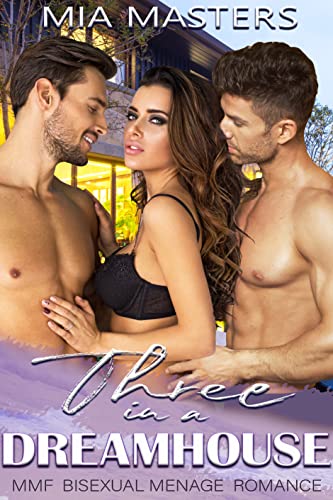 Three in a Dreamhouse: MMF Bisexual Menage Romance (Three in Love Book 1)
By Mia Masters
Free

$3.99

(Please be sure to check book prices before buying as prices are subject to change)

---
I've just found my dreamhouse.
And maybe two hot guys to share it with?

I've always been a career girl who shunned dating for hard work. And now I finally have enough money to buy the house of my dreams.

When I reach out to the real estate broker, Leo, it turns out that he's super hot and rich. He's as ambitious and successful as I am, so I start to think I might have found my dream man, too!

Then I find out that Leo is listing the house for his friend, John, who is just as handsome and hard-working. But as I get to know both of them in the process of hopefully closing on the house, it starts to seem like John doesn't really want to sell it.

Tensions heat up between all of us, but ironically, so does the chemistry. I find myself wondering whether I've found two dream men along with my dream house.

But I'm not sure if Leo and John are just friends, or something more than that? And now they're both fighting about the house, about me, about everything! I thought we were close to sealing the deal but now I have more questions than answers.

Will we soon be celebrating the sale by cracking open a bottle of champagne and rolling around in silk sheets on a king-sized bed... getting tousled together and enjoying each other's bodies? Or will it all fall apart due to jealousy and fear?

Can the three of us work out a successful deal all around?
Or will the whole thing fall apart, leaving my dreams shattered?

Three in a Dreamhouse is a friends to lovers, billionaire bisexual menage with m/m, m/f and m/m/f action and romance. It's part of Three in Love, a series that contains standalone books connected by theme. It has no cliffhanger and no cheating. And it has a happily ever after served with plenty of heat to keep you warm all winter long!

Read More...
---
---
Leave a review about Three in a Dreamhouse: MMF Bisexual Menage Romance (Three in Love Book 1).
Login Now

© 2022 CraveBooks. All rights reserved