Where Is My Little Dog? - 我的小狗在哪儿? : Bilingual Picture Book English Chinese (Chinese Books for Children 4)
Where Is My Little Dog? - 我的小狗在哪儿? : Bilingual Picture Book English Chinese (Chinese Books for Children 4)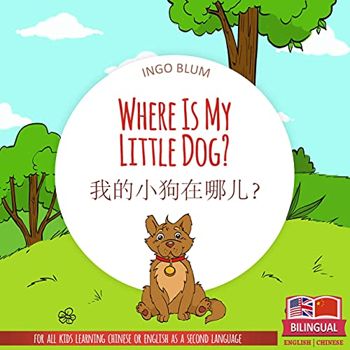 Where Is My Little Dog? - 我的小狗在哪儿? : Bilingual Picture Book English Chinese (Chinese Books for Children 4)
Free

$2.99

(Please be sure to check book prices before buying as prices are subject to change)

---
Teach Your Children First Words in English or Chinese This little story is about Bobby the dog. He is missing. You need to find him! The search for him in different places is a delightful read-aloud. Little dogs like to play, right? But sometimes, they disappear. Why did he leave without his bone? Did he go to the dentist? Maybe he could not chew his bone anymore? Where did he go? Kids will learn different places, objects, and simple questions and answers, but mostly, they will cry out a loud "hooray" when the funny dog is discovered at the end. Where? Well, just read... Here's what makes this book special: Each line is both in English and simplified Mandarin Chinese The story is simple and suitable for early age learning All the illustrations are original, creative and super fun AND SO MUCH MORE! Kids learn quickly and easily. With bilingual children's books, you set them up for success and expand their horizons from an early age! This dual-language story is specifically designed to teach children new foreign words and phrases as you read to them. The book is also available in other languages. If you and your children like funny animals and a bit of seek-and-find, then you'll both love this charming story! For all kids learning English or Chinese as a second language.
Read More...
---
---
More Books in this series from Ingo Blum
Leave a review about Where Is My Little Dog? - 我的小狗在哪儿? : Bilingual Picture Book English Chinese (Chinese Books for Children 4).
Login Now

© 2022 CraveBooks. All rights reserved