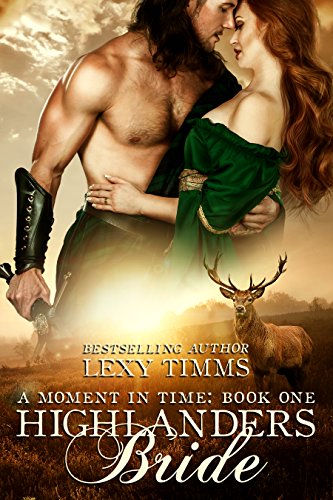 Highlander's Bride: Time Travel Romance, Scottish Historical Fantasy (Moment in Time Book 1)
By Lexy Timms
Free

$2.99

(Please be sure to check book prices before buying as prices are subject to change)

---
NEW UPDATED VERSION WITH MORE STORY ADDED TO HIGHLANDER'S BRIDE!


USA TODAY Bestselling author Lexy Timms, brings you a love story that has no boundaries...





One moment in time was all it took…





Watch the Trailer: https://www.youtube.com/watch?v=978Dr7iqdNA&t=2s



She shouldn't be here… She can't even recall how she got here.

Except for the dream. Mya Boyle remembers the dream. She knows it's somehow connected to her past, her present and the future.

Mya woke one morning in a field, a stag grazing close by as if it didn't even notice her. She lay bare, like a babe from the womb, except for a wool blanket wrapped around her tightly.

A grown woman with no memory, no family, no money, nothing. Kayden McGregor found her while hunting. He was after the stag and nearly shot her with his arrow instead. Unable to leave her to the wolves of his clan, he took her to his home.

He resents her. She can't bare to look at him. Or stop herself from staring when he doesn't notice. Trapped, and yet somehow destined to be together.



Remember enough of the past… You may be able to control your future.



Moment in Time Series:
#1 - Highlander's Bride
#2 - Victorian Bride
#3 - Modern Bride
#4 - Royal Bride
#5 - Forever the Bride



NOTE: This is a series. In order to understand the time travel aspect, you will need to read the series to find out what is going on and put the pieces of the puzzle together.
Read More...
---
---
Leave a review about Highlander's Bride: Time Travel Romance, Scottish Historical Fantasy (Moment in Time Book 1).
Login Now

© 2022 CraveBooks. All rights reserved