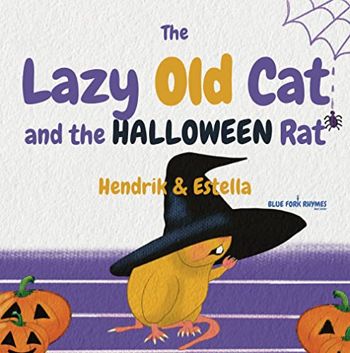 The Lazy Old Cat and the HALLOWEEN Rat: (Rhyming picture book) (Blue Fork Rhymes)
$2.99
(Please be sure to check book prices before buying as prices are subject to change)
The Lazy Old Cat and the HALLOWEEN Rat is the second book in Hendrik and Estella's Blue Fork Rhymes illustrated children's series. It too is a BLUE FORK RHYMES BEST SELLER!
Brief excerpt
"It's Halloween time," said the big fat rat, "And I have an idea as a matter of fact." The ears went up on the lazy old cat who sat perched on the porch... on the furry black mat.
From the Authors
First, we wanted this series to be a fun, shared, family read. Basic language and word repetition for the little ones with familiar words and simple stories for beginning readers.
Illustrations
Again, Estella has taken this books pastel created story board and digitally remastered it. She hopes your children like the illustrations. She had a lot of fun creating them.

Digital Books

Book Length: Short Story – 0-60 Pages
More Books in this series from Hendrik Maarten
Leave a review about The Lazy Old Cat and the HALLOWEEN Rat: (Rhyming picture book) (Blue Fork Rhymes). Login Now