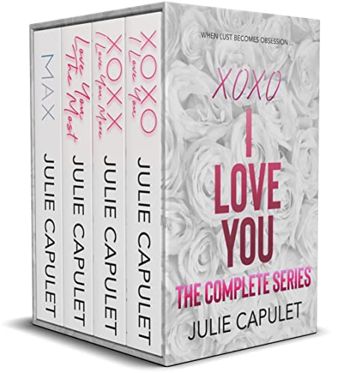 The I Love You Series
$9.99
(Please be sure to check book prices before buying as prices are subject to change)
★ Amazon Top 100 bestseller ★
An epic love story
Rafe and Lexi's connection begins with a white-hot lust that neither is prepared for. Then it deepens into an all-consuming love affair that awes them both. Box set includes a sexy drama-filled duet, an extended epilogue (includes babies!) and a steamy spin-off starring the hero's hot brother :)
Get swept away by this steamy and romantic love story in which Rafe and Lexi's damages prove to be the link that binds them irrevocably.
Box set includes:
XOXO I Love You
XOXX I Love You More
Love You The Most
Max
XOXO I Love You
A young graduate. A ruthless CEO. And an attraction neither of them was prepared for. After graduating from college, Lexi Blondeau moves to L.A. By some miracle, she gets an interview for a dream job, at Downtown, the "It" company of the decade. If rumors are anything to go by, CEO Rafe Black is not only one of the most ruthless men in the city, but also one of the hottest men on the planet. At the interview, the very last thing Lexi is expecting is for the mysterious--and unbelievably sexy--Rafe Black to literally sweep her off her feet. To say their chemistry is off the charts would be an understatement. Within days, Lexi's life seems to have transformed itself in every possible way, and all because of her new boss, who also happens to be her passionate new lover. Rafe takes Lexi to his private estate in Kauai so he can keep her all to himself. But will Rafe's obsession become too much?
XOXX I Love You More
Lexi and Rafe's connection began with an intense lust and a white-hot obsession. Then it deepened into an all-encompassing love affair that awes them both. But when Rafe's jealousy reaches fever-pitch, it only drives Lexi away ... straight into the arms of Rafe's rebel brother, Max. Will Rafe find her? Will Max cross a line? And can Lexi forgive Rafe for loving her too much? Their tangled web only gets more complicated as Lexi returns to Downtown to begin her new job. Rafe has to somehow figure out how to balance his love with his overprotective urges. But will an ex from Rafe's past and a colleague who has his sights set on the CEO's gorgeous new assistant be enough to drive them apart again? Or are Rafe and Lexi destined to be together?
Love You The Most
50-page series epilogue (includes babies and an OTT steamy and romantic HEA!).
Max
Max Black's dark past has left him scarred, but under his hot, bad-boy exterior is a shining heart of gold. When a cute, sassy chef who looks like an angel serves him a slice of her warm apple pie, he notices an unmistakable bruise around her left eye and knows exactly what caused it. Can Max handle his new obsession and control his lust long enough to save her without destroying her? Peach Sutton spends every waking moment cooking, baking and working to make her new restaurant among the best in Los Angeles. But when one of her customers turns into a stalker, she runs--literally--into the arms of a gorgeous blue-eyed stranger who could be either the devil or a saint. Is Max Black just as dangerous as the man Peach is running from? Or is he the white knight lover she never expected to find? Max is a spin-off from the I Love You series and is a sexy standalone story.
Reader reviews:
"Wow! I devoured this series. So incredibly good."
"A fast-paced, burn-up-the-pages ride of your life."
"A sinfully good read."
"Sexy, sultry ... impossible to put down."
"So steamy and romantic!"
"The heat level is off the charts ... a wild ride."
Digital Books

Book Length: Epic Novel – 650+ Pages
Leave a review about The I Love You Series. Login Now