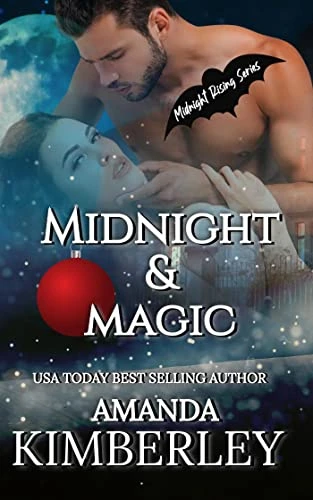 Midnight & Magic
$2.99
(Please be sure to check book prices before buying as prices are subject to change)
Sometimes Christmas Really is All About the Cookie!
Camden Connel never has time for women. His days are all about the US and his nights are all about Japan's stock markets. As a CEO on Wallstreet and working with the world's most prominent investors, his sole focus is his clients. Besides, women only see him as a piece of meat, which is ironic since he's a vampire.
One of the celebrity rags crowned him as America's most eligible bad boy bachelor. And now, because of that and his failed attempt at settling down, he has an even harder time relating to women, especially when he first meets Cassidy.
Cassidy Christianson has horrible luck! She has a failed marriage and career because her ex cheated on her last Christmas and blackballed her in the interior design world! Cassidy made a pact to swear off of men, but she still needed to work, and Camden Connel was the only one willing to give her an interview. Out of options, she takes the offered position. Her holiday-hating new boss wants her to create the Christmas party of the decade as her first assignment. No pressure!
Stressed after he shoots down idea after idea, she wanders into a local bar for a liquid lunch. She pours her heart out to Ginger, a bartender with the most beautiful elf costume and perfect prosthetic ears Cassidy has ever seen.
Ginger hands her a special Christmas card, and within it is a gift of gumption. According to the card, she has the next 24 hours to be as daring as she needs to be to get her boss to listen to her. Can she pull off an ugly sweater competition so she doesn't have to go to another party in high heels? And more importantly, will she convince Camden that the bond they feel is true?
Digital Books

Book Length: Novella – 60-150 Pages
Leave a review about Midnight & Magic. Login Now