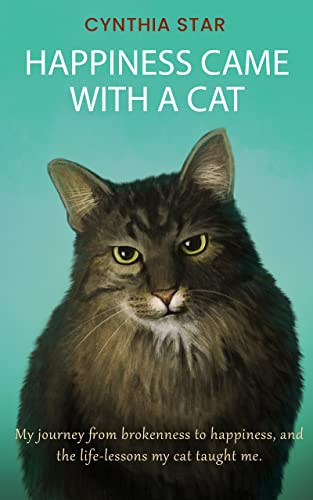 Happiness Came With a Cat: My Journey from Brokenness to Happiness, and the Life Lessons My Cat Taught Me
By Cynthia Star
$5.99
(Please be sure to check book prices before buying as prices are subject to change)
How the cat she never wanted taught her the lessons she never knew she needed.

It was not love at first sight for Jinx and Cynthia. The long-haired, dandruff-ridden creature wasn't Cynthia's dream for a new family pet. And Jinx was equally unimpressed with her.

Jinx's arrival marked a dramatic turning point in Cynthia's life. Soon after, she endured a devastating loss and battled grief, loneliness, and depression. Throughout the turmoil, Cynthia and Jinx progressed from sparring partners, to reluctant roommates, to friends. When Cynthia finally decided to take her life back, she brought Jinx along for the ride.

Side by side, they weathered all the excitement, disappointment, mishaps, and adventures that come with finding happiness and redefining your life. Through it all, Jinx was an unexpected source of comfort, affection, and valuable life lessons. Because sometimes the thing you most need shows up in the way you least expect.


Leave a review about Happiness Came With a Cat: My Journey from Brokenness to Happiness, and the Life Lessons My Cat Taught Me. Login Now