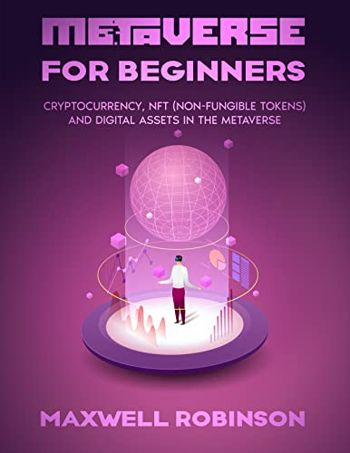 Metaverse for Beginners: Cryptocurrency, NFT (Non-Fungible Tokens) and Digital Assets in the Metaverse
$5.99
(Please be sure to check book prices before buying as prices are subject to change)
Learn everything you need to know about the Metaverse, cryptocurrency, NFTs, and digital assets.
Are you wondering why the Metaverse is becoming increasingly popular?
Are you interested in learning more about the role of cryptocurrencies, NFTs, and digital assets in the Metaverse?
Do you want to know how you and your business can benefit from this revolutionary innovation?
The Metaverse is growing more and more popular because it can potentially change the way that we interact with others and the world around us. It can reshape the way we create, use, exchange, and consume all types of creative content. You can buy real estate properties, go shopping, attend concerts, play sports, and engage in a wide range of activities in this virtual world. The Metaverse also offers a great opportunity for creators to monetize their content. It disrupts the barriers in the physical world, making it possible to get together with people who live anywhere on the globe.
In this book, you will:
Learn what the Metaverse is and understand the technologies behind it

Discover how different virtual worlds can come together

Understand the difference between the Metaverse and other virtual worlds

Find out about everything you can do in the Metaverse

Understand why you should consider taking your business to the Metaverse

Find out how to choose the right virtual world for your business

Learn how to enter the Metaverse

Discover the benefits that the virtual world offers to educational institutions

Discover the different Metaverse use cases and projects

Understand the drawbacks of joining a virtual world

Find out how to make money in the Metaverse and get to know the job opportunities available
This book serves as the ultimate guide for understanding the Metaverse and the role that cryptocurrency, NFTs, and digital assets play in the virtual world. This book offers in-depth information about the Metaverse and the technologies behind it, all while being an interesting and entertaining read. Add this book to your cart and get into the Metaverse!
Digital Books






Book Length: Short Story – 0-60 Pages
Leave a review about Metaverse for Beginners: Cryptocurrency, NFT (Non-Fungible Tokens) and Digital Assets in the Metaverse. Login Now