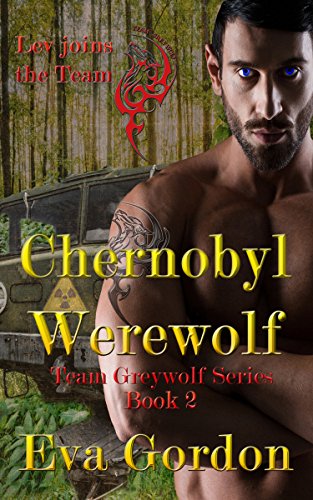 Chernobyl Werewolf, Team Greywolf Series, Book 2
By Eva Gordon
$3.99
(Please be sure to check book prices before buying as prices are subject to change)
Doctors Without Borders, Rachel Becker, M.D. survives Ebola and near death at the hands of Boker Haram terrorists. While recovering at her estranged father's home, she meets Lev, a mysterious handsome Russian. Their chemistry is immediate—sizzling. Who is this sexy man? And why is her father upset by his visit?

Lev Volkov, born near Chernobyl, is a powerful mutant werewolf. Team Greywolf's lethal weapon. Lev visits Dr. Howard Becker and meets his beautiful daughter. Rachel is Howard's secret. A woman with the Stallo genetic marker, a human with desirable yet addictive blood. Forbidden. Nonetheless, his wolf fights to claim her.

When a rogue pack tries to kidnap Rachel, Lev will stop at nothing to kill them all. But the oath breaking werewolves make things much harder. Will he save Rachel - his mate - in time or will he lose everything?
Digital Books

Book Length: Long Novel – 320-650 Pages
More Books in this series from Eva Gordon
Leave a review about Chernobyl Werewolf, Team Greywolf Series, Book 2. Login Now