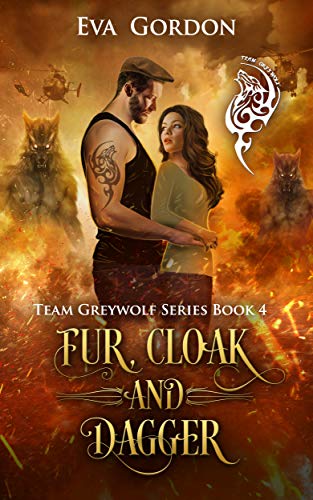 Fur, Cloak and Dagger (Team Greywolf Series Book 4)
By Eva Gordon
$3.99
(Please be sure to check book prices before buying as prices are subject to change)
Groomed as the next human spy for the LIA or Lycan Intelligence Agency, Emma is called to duty earlier than she expected. Head of Team Greywolf, Rylee, dispatches a new agent to retrieve her. Emma, who also works for the CIA, agrees to join the team.

Nik, former Russian intelligence, is an unusual werewolf. He spent his entire life with humans, only learning recently others of his kind existed. After helping Team Greywolf in a recent operation, Nik reluctantly joins the team. His only goal is to find Saskia, an escaped serial killer from his last mission, and bring her to justice.

Emma and Nik are assigned a covert mission to find out who is attempting to create werewolf men, found dead and mutilated during the failed transformation. Emma and Nik must put aside their national loyalties and mutual sexual tension to find the culprit. Their assignment is dangerous, not only to their lives, but to their hearts.
Digital Books

Book Length: Novel – 150-320 Pages
More Books in this series from Eva Gordon
Leave a review about Fur, Cloak and Dagger (Team Greywolf Series Book 4). Login Now