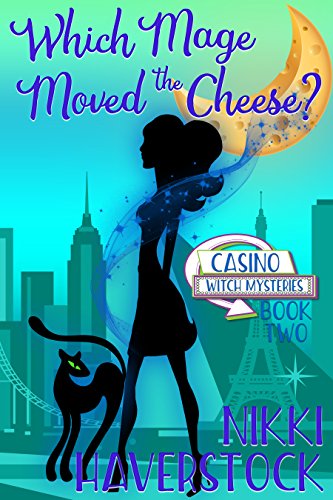 Which Mage Moved the Cheese?: Casino Witch Mysteries 2
$3.99
(Please be sure to check book prices before buying as prices are subject to change)
Ella's Super Awesome Guide to Paranormal Cheese:
1. You eat it, but there are weird side effects.
2. The ingredients can be really gross.
3. You don't use it to squash people.


When the ex-president of the Paranormal Cheese Council is found dead under the world's largest wedge of cheese, Ella is on the case! Unable to admit who she really is, she goes undercover. But can she, her klutzy sidekick, and the world's most arrogant familiar escape the Booby-Trapped Queso of Doom, or stop eating the magically addictive beer-cheese fondue without giving things away to the anonymous villain?
Watch Ella dress as a Bavarian Beer Wench, watch her familiar act all catlike, and watch her slow-burn relationship with the sexy and muscular Vin turn into cheesy goodness before she makes a public declaration that nips their developing relationship in the bloomy rind.

If you like the idea of Sober-Up Salami, over-the-top villains, dragon spit, and siren milk, then you want a heapin' helping of Which Mage Moved the Cheese?, Book 2 of the Casino Witch Mysteries. Buy your copy today!

Digital Books





Book Length: Novel – 150-320 Pages
Leave a review about Which Mage Moved the Cheese?: Casino Witch Mysteries 2. Login Now