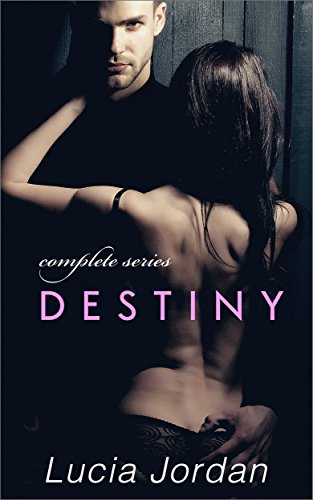 Destiny: A Mystery Romance - Complete Series
By Lucia Jordan
$2.99
(Please be sure to check book prices before buying as prices are subject to change)
Will Devlin's brand of dominance prove to be too much for the buttoned-up and proper Helena? And why are Helena and Devlin so sure this isn't the first time they've crossed paths?

Helena Blake should be nothing but thrilled. She's traveling from snow-covered Boston to the sunny Caribbean, where she's set to be a bridesmaid in her best friend's wedding. Still, she can't help feeling a bit depressed—and a little embarrassed—that she's attending the wedding alone, and certainly not for lack of trying. Her parents have tried fixing her up with countless men they thought were right for her, and the few relationships she's had in the past have all left her unsatisfied, though she doesn't know why. This all changes when she meets the dark and handsome best man.

Devlin Lance may come from the wrong part of Boston and seem a little rough around the edges, but none of that kept him from attending Harvard or succeeding in the business world. After meeting Helena Blake, he's left unsure as to why he's so immediately and deeply attracted to a high-society girl like her. It's almost like they've met before. Soon he realizes that Helena behaves like a natural submissive, which only serves to bring out his aggressive and demanding dominant side. Now, he'll stop at nothing to see the beautiful blonde bridesmaid submitting to him.

While Devlin's virile sexual charge is quite the opposite of her coy reserve, Helena can't help feeling a mysterious awakening when he's around. His quiet yet strong personality arouses her unbearably. But will Helena allow herself to submit to her deepest, most guarded bodily desires?
Digital Books





Book Length: Novella – 60-150 Pages
More Books in this series from Lucia Jordan
Leave a review about Destiny: A Mystery Romance - Complete Series. Login Now