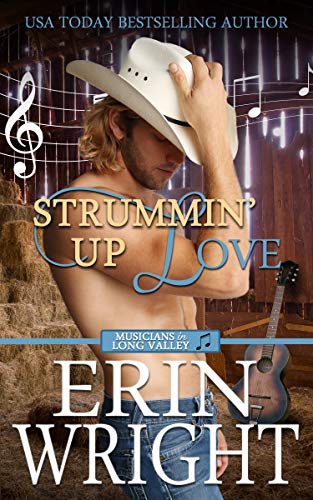 Strummin' Up Love
By Erin Wright
$4.99
(Please be sure to check book prices before buying as prices are subject to change)
Sometimes, the notes sound all wrong…
Mega-country music star, Zane Risley, appeared to have everything...until a car accident took his wife and crippled his son, Skyler. Now he's lost. He's looking for any way to get back to the music, and to get his son to stop being so damn angry all the time. The way Zane figures it, a therapeutic horse ranch in Idaho is exactly what Skyler needs. Except that's all Zane knows how to do: Throw money at a problem, when Skyler just needs his dad.
Feisty and strong have always seen her through…
Louisa doesn't take shit off anyone, including the kid of some Nashville star who's just landed on her client list. Nursing is her passion, and she can help heal Skyler's broken body, if only he would let her. He's fighting her every step of the way, though, and his deliciously attractive yet broody as hell father certainly isn't helping matters. She has to find a way to connect with both of them. They're hurting, and she knows she's the only one who can mend this broken family.
The strength is in the melody…
Putting Skyler first, Zane and Louisa have to decide if two people from opposite sides of the track can make love work in a small town. Healing hearts is one thing, but an instant family is quite another...
Strummin' Up Love is the first novel in the Musicians of Long Valley Romance series, although all books in the Long Valley world can be read as standalones. It has some strong language, and oh my, sexy times. Enjoy!
Digital Books






Book Length: Novel – 150-320 Pages
Leave a review about Strummin' Up Love. Login Now