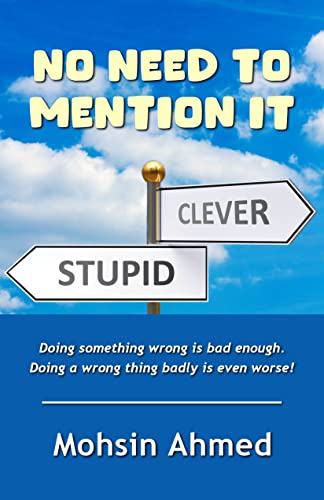 No Need To Mention It
By Mohsin Ahmed
$2.99
(Please be sure to check book prices before buying as prices are subject to change)
Life seems normal as Raheem is starting his final year of university. Then he meets Veronica. He is instantly attracted to her, but there are two problems. Problem one, Raheem already has a girlfriend. Problem two, Veronica is also attracted to him.

Stuck between two possessive girlfriends, Raheem gets into comical but dangerous situations. His cousin Samir tries to help but ends up landing himself in the mess. An annoying enemy has a score to settle and Raheem receives some surprising news which further complicates matters.

The clock is ticking, the tension is increasing. Each new revelation is worse than the previous. Raheem is getting more irritated by the day. Samir doesn't have a clue what time of day it is.

Enjoy the ride as a stupid idiot tries to save himself and his equally stupid cousin from a whole lot of trouble. All hell will break loose if the truth is revealed. Or can Raheem, along with Samir find a way in which there will be no need to mention it?
Digital Books

Book Length: Novel – 150-320 Pages
Leave a review about No Need To Mention It. Login Now