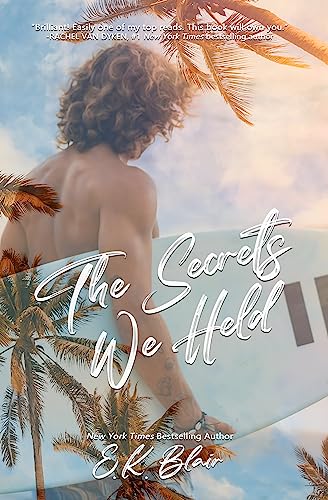 The Secrets We Held
By E.K. Blair
$4.99
(Please be sure to check book prices before buying as prices are subject to change)
Between college, surfing, and girls, Trent was living his best free-spirited life in Miami. He was careful not to let anything complicate that. So, when he met Kate, and they quickly became friends, he made sure to keep it that way.

Better to play it safe than to risk losing her to a casual hookup.

Kate was an independent girl who loved surfing and partying with her friends. Her only hang-up in life was the hopeless crush she had on Trent.

She couldn't believe she had allowed herself to fall for the most unavailable guy she knew.

But everything shifted when Caleb entered into her life. Kate embraced the distraction from Trent, and before she knew it, Caleb had swept her off of her feet. He was all she could think about, so much so, that she became blinded by his love.

Trent knew something wasn't right though, but when he expressed his concerns, he wound up pushing her away. The further she drifted, the more he could feel the lines between them blurring. And then one catastrophic night changed everything.
Digital Books

Book Length: Novel – 150-320 Pages
Leave a review about The Secrets We Held. Login Now