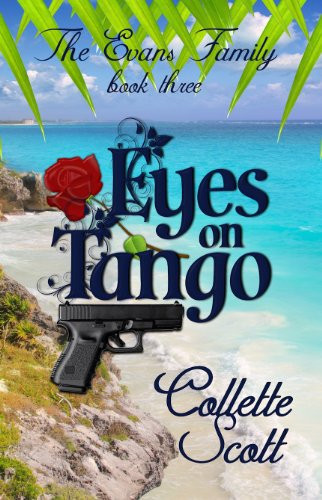 Eyes on Tango
By Collette Scott
Free

$2.99

(Please be sure to check book prices before buying as prices are subject to change)

---
To escape a humiliating breakup, Dr. Danielle Ryan packed her bags for the beautiful Mayan Riviera in search of a peaceful, sunny vacation. What she found instead was a dangerous drug lord, and he is hot on her tail to silence her after she witnesses a crime. Her only hope lies in the dark, mysterious Good Samaritan who saves her from a bullet and drags her to safety. However, can she trust the sexy man with the dancing eyes, a gun in his hand, and too many secrets he's unwilling to share?

Known to his family as the unreliable one, happy-go-lucky Hayden Evans allows them to think what they will. The truth of the matter is that he's not who he appears to be. All was going well with his double life until he suddenly finds himself responsible for a beautiful doctor, and he realizes that his house of cards is about to come crumbling down. When ally turns to enemy, and he becomes a target, he knows he should cut the beautiful doctor loose to save her life. Then she becomes a target as well.

Although a danger to each other and to themselves, as Danielle and Hayden's adventure begins, the chemistry deepens. While fleeing up the scenic Mexican coast, Hayden develops a plan. It is risky, but his increasing feelings for the brave and beautiful doctor outweigh his concern. After calling in the Evans troops to help, he learns that he is in the middle of their unfolding case, and more than Danielle's life is on the line.

Read More...
---
---


© 2022 CraveBooks. All rights reserved