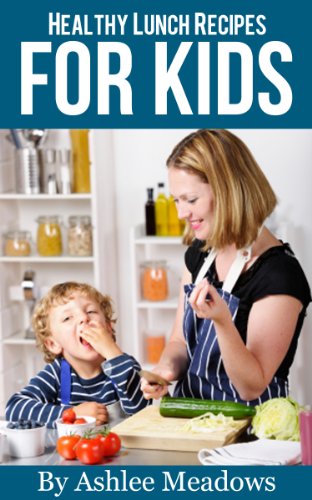 Healthy Lunch Recipes For Kids
$0.99
(Please be sure to check book prices before buying as prices are subject to change)
Healthy Recipes For Kids
You already know that breakfast matters, but the value of lunch cannot be denied. Right in the middle of the day, when your child is starting to get hungry, their attention is also starting to wane. Their blood sugar levels are lowering a bit, and that is making them feel a little irritable. Just ask a teacher about what a classroom looks like right before lunchtime – he or she will tell you that the room is full of fidgeting, wiggling kids who are dreaming of good food to eat.
However, you might have questions about whether or not that school lunch is healthy for your kids. You might be like me, surprised at the idea that your kids are eating chicken nuggets and cheeseburgers every other day. The servings of fruit are far too little, and the veggie servings are even worse. The school systems do a great job of trying to provide the proper nutrition, but on limited budgets for thousands of kids, that can be very difficult to do.
That's why making your own lunch for your kids is so important. Sure, some of them might balk at the idea of brown-bagging it, but you can compromise with a homemade lunch a few days a week, then teaching them to make healthy choices for the rest of their meals at school.
But what if you're not sure how to fit in the time to make a nutritious lunch? And what if you're not entirely sure what to put in it? The recipes in this book will help you create something delicious, nutritious and easy-to-pack for even the pickiest eaters.
Ready to make a great lunch for your child? Sit down and read through this book, find a few recipes to try and give it a whirl!
Digital Books

Book Length: Short Story – 0-60 Pages
More Books in this series from Ashlee Meadows
Leave a review about Healthy Lunch Recipes For Kids. Login Now