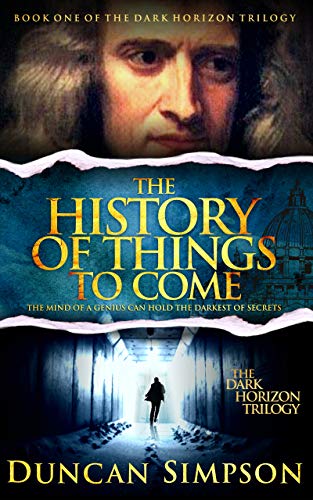 The History of Things to Come
Free

$0.99

Deal Date: 2021-06-14
The mind of a genius can hold the darkest of secrets.


A Bosnian gangster is gunned down in a packed London restaurant. In his possession is a notebook once belonging to Isaac Newton. This is just the latest in a series of shocking crimes connected to objects once belonging to the famous scientist. The police are stumped and the pressure for an arrest is mounting.

Enter Vincent Blake, London's leading stolen-art investigator. As Blake sets out to solve the case, a series of devastating events threaten to destroy everything he holds dear. Broken but undeterred, he comes upon a shocking discovery: within the coded pages of a mysterious crimson book, annotated in Newton's own handwriting, is an explosive revelation. Possessing this secret knowledge turns Blake into a marked man.

Caught in the crosshairs of two sadistic hitmen, Blake is propelled into a breathtaking race through London and its dark historical secrets.

With time running out, will Blake solve Newton's deadly puzzle before the world is plunged into a catastrophe of biblical proportions?
What readers say about Vincent Blake thrillers:
★★★★★ 'A nail-biting, thrill a minute trilogy. Superb.'
★★★★★ 'I love Vincent Blake.'
★★★★★ 'Absolutely Gripping!'
★★★★★ 'A rip-roaring mystery thriller.'
★★★★★ 'A marvellous adventure that you definitely don't want to miss.'
★★★★★ ' Dan Brown aficionados will love the twists and turns of this story.'
★★★★★ 'Fast-paced and totally gripping - unputdownable.'
★★★★★ 'I'll stop when I finish this chapter - Yeah, never happened.'
★★★★★ 'Just brilliant!'
★★★★★ 'A wonderful blend of history, religion, science, fact and fiction.'
★★★★★ 'An intriguing, mesmerizing trilogy.'
★★★★★ 'This is a great riveting adventure and amazing experience to read.'
Read More...