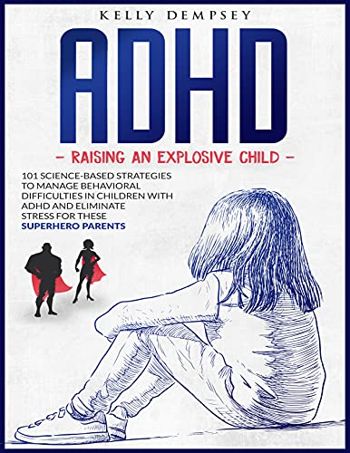 ADHD Raising an Explosive Child: 101 Science-based Strategies to Manage Behavioral Difficulties in Children with ADHD and Eliminate Stress for these Superhero Parents
Free

$9.99

Deal Date: 2021-07-31
Moms and dads, pay close attention... because this book may be just what you need to help you succeed with your child's education!

Surely you have already asked yourself: "Why does my child have ADHD?" and of course, we know it comes from a place of love and understanding, but, wanting the best for your kid, this condition wasn't really planned and accounted for.

However, you should know that ADHD is one of the most common neurodevelopmental disorders of childhood, and your child is just one of many!

It is normal for children to have concentration and behavior problems at some point in their childhood. However, children with ADHD do not easily get rid of these behaviors. If not treated properly, the symptoms continue, and they can be severe and can cause difficulties at school, with friends, or even at home.

It is obvious that you, as a parent, cannot accept this diagnosis, but avoiding the situation is only worse. The best thing you can do for your child's sake is to inform yourself properly on the subject, and help them improve day by day.

What you need is to learn new techniques to deal with your child's ADHD in the best way possible and let them live a happy life as they deserve!
To accomplish that, the book "ADHD Raising an explosive child" is just what you need!

By reading this guide, you will understand what exactly ADHD is, what the symptoms are, and what are the best techniques to monitor your child and help them improve.

No one can be a perfect parent, but we can do what is necessary to help our children grow up in a healthy way!

By putting the methods proposed in the book into practice consistently, in every situation of daily life, you can say goodbye to your frustration once and for all.

Read this book to finally feel like a prepared and adequate parent!

Are you up for the challenge?

Grab your copy now and become your child's superhero!




Read More...
Be the first to give a review about ADHD Raising an Explosive Child: 101 Science-based Strategies to Manage Behavioral Difficulties in Children with ADHD and Eliminate Stress for these Superhero Parents. Login Now