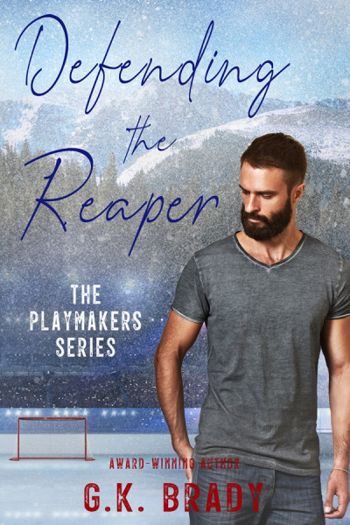 Defending the Reaper
By G.K. Brady
$3.99
(Please be sure to check book prices before buying as prices are subject to change)
Blizzard
captain Dave Grimson's life is as tangled as a wad of skate laces—and it's a
mess he's created. It's time to piece his life back together, and he's
looking for a fresh start. Until he collides with Ellie Hendricks. Literally.
Ellie's
struggling to keep her landscaping company afloat; the last thing she needs is growly
Dave crashing into her.
Dave's determination
to make up for his latest screwup leads his heart into dangerous territory. Ellie
wants nothing from him except to have her van fixed, but as he lowers his
defenses, she glimpses something compelling. Dave's got secrets, though, and
she can't solve them or his mixed signals.
Keeping
it casual is the smart play, but Dave and Ellie's mutual attraction pulls them
into the deep end … until those secrets come home to roost. Can they keep their
heads above water, or will they be caught in a surge that drowns them both?
Digital Books

Book Length: Long Novel – 320-650 Pages
More Books in this series from G.K. Brady
Leave a review about Defending the Reaper. Login Now