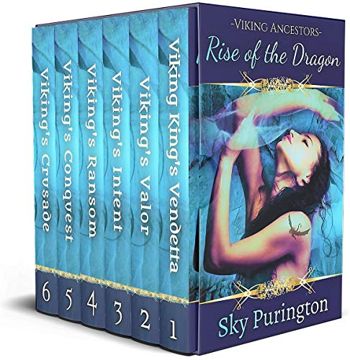 Viking Ancestors
Free

$9.99

Deal Date: 2021-10-14
Alpha Viking dragon warriors come together with fated mates in six full-length fast-paced adventures across time. Journey from modern-day Maine to medieval Scandinavia, then on to mythological Norse worlds. Sail the seas and skies on turbulent quests teeming with explosive heart-pounding action, unexpected twists, and sizzling passion.1300+ pages of scorching hot time travel, shifter romance.

Viking King's Vendetta- Sven and Emily navigate not only their feelings for one another but the burgeoning prophecy that might take it all away.

Viking's Valor-Sparks fly as an age-old vendetta ignites a love triangle that threatens not just the fate of Håkon's people but his very heart.

Viking's Intent-Determined to control their own fate, Davyn and Shea devise a bold plan to trick their adversaries. All they have to do is agree to be separated forever.

Viking's Ransom- To fulfill a dark prophecy, Eirik must ransom the woman he loves to get back what's been taken from him.

Viking's Conquest- Will Rokar and Tess be able to let their rocky pasts go so they can end their nemesis and share a future? Or are some things just too hard to overcome?

Viking's Crusade- Soren and Ava embark on a quest through time that heals old wounds and brings them closer together yet fuels the ruthless monster eager to claim her.

These books contain strong sexual content and are recommended for a mature audience.

Read More...
---
---