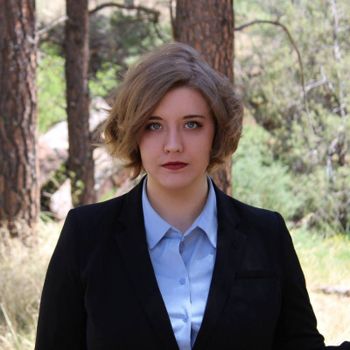 What are your top three genres you enjoy writing in?
I most enjoy writing romance (including LGBTQ), sci-fi, and fantasy.
What is the longest story you have ever written?
My longest novel finished at over 180k words! (As anyone can imagine, it needed a lot cut out.) It took me roughly half a year to write, but I went on to self-publish it as the first installment in a sci-fi trilogy.
Have you ever had to submit written work on a scheduled basis?
Yes, as I did both transcription work for Red Rocks Pictures and worked on copy for website clients at Mixed Synergy marketing. I have also worked with self imposed deadlines for events such as NanoWriMo, Pueblo's IdeaCon, and met the deadline for a local melodrama script contest, which I won.
Have you ever worked with another publisher?
I have not worked with another publishing company. All of my work has been self-published.
Have you ever been employeed as a ghostwriter before?
No
Are you ok with signing a confidentiality agreement?
Yes
How many 15,000+ word stories can you write in one month?
1-2
Desired Pay Per Word
$0.07 - $0.10
Blog & Article Content
Yes
Written Sample
Download
Arrabella Publishing is part of the CraveBooks family of websites.

Contact K.
© 2022 CraveBooks. All rights reserved