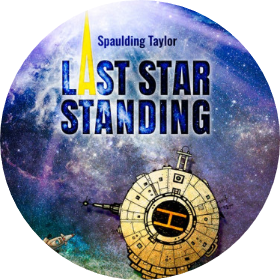 #Followers: 36
Follow
Spaulding Taylor
Author
ABOUT THE AUTHOR
A pen name for one of London's most successful ghostwriters. Played the cello for over fifteen years in orchestras including the BBC Symphony and Royal Philharmonic. Has lived in seven countries and visited 44.
Tell us a little bit about yourself, your hobbies and interests.
Hi, and thanks for dropping by!! Spaulding Taylor is my pen name, chosen because I was lucky enough to have been previously published by a "big five" publisher, in contemporary fiction. This is my very first sci-fi, so I'm using a pen name. Other interests? TENNIS!!!!!! Music. Travel. (Have lived in seven countries on three continents - and visited 44.) Did I mention tennis!??!?!
When and why did you start writing books?
I finished writing my first novel aged 14. This was probably because, as a USA embassy 'brat,' I grew up in Asia, where you couldn't get much TV. All my sister and I ever did was read. We read until our eyes bubbled.
What made you decide to tackle writing as a career?
I happened to be touring the world as a professional cellist, based in London. And it occurred to me that nobody had written the inside story of life in an orchestra before. That was when I got lucky with a "top five" publisher. Didn't give up playing cello, though - it was a SECOND career.
Which one of your books or characters is your favourite?
Depends on my mood.
Which one of your books was the hardest to write and stretched you the most as a writer?
My most recent one. Because I wrote it - for fun, really - without knowing enough about the genre. I didn't intend to publish it, is why I did too little research. So when I did get a publisher and the publisher's editor pounced on all my mistakes, I had to work hard to put them right. But I'm VERY grateful to that editor. She transformed the book. Editors matter!
Who is your favourite author and book?
Jane Austen. Emma. The most perfect novel ever penned.
What book are you reading right now?
I read lots of books at a time. Some of those I'm in include Jessica Duchen's Immortal, P.G. Wodehouse's Very Good, Jeeves, Corrie Ten Boom's 'The Hiding Place' (for my book club) and Earth Sign by Naomi Morris.
Where do you get your inspiration for your books?
Not sure. Hard to say.
What do you enjoy doing in your spare time?
Tennis!!!!!!!!!!!!!!!!!!! Tennis!!!!!!!!!!!!!!!!!!!!!!!! (Did I mention tennis?!) I also love playing music. And I love our dachshunds (long-haired minis). Walking our dachshunds. Travelling (pre-pandemic). But... tennis!!!!!!!!!!!!!!!!!!!!!
Do you have any new books in the works?
Yes, I'm currently writing a new book. Luckily, in a genre I do know a lot about.... Thanks for stopping by!!!