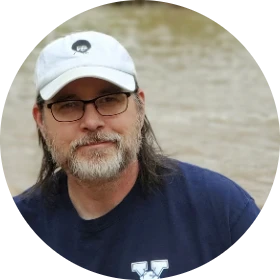 #Followers: 230
Follow
Benjamin X. Wretlind

Verified Gold Account
Author
ABOUT THE AUTHOR
Benjamin, a speculative fiction author, ran with scissors when he was five. He now writes, paints, uses sharp woodworking tools and plays with glue. Sometimes he does these things at the same time. He is the author of the Transit books, an anthropological science fiction series, as well a several other novels and nonfiction books.
Owing his life's viewpoint to Bob Ross, he has also painted a few things, thrown a few paintings away, and probably has a painting on an easel right now. Oh, and he loves wood working, too.
It's all about creating.

Benjamin lives with his wife Jesse in Colorado.

Tell us a little bit about yourself, your hobbies and interests.
I've been many things in my life, which means nothing more than I really had no idea what I wanted to do when I grew up. I have been (at different times): a fry cook, range boy, greens maintenance technician, reservations agent, room service attendant, editor, banquet server, meteorologist, instructor, program manager for Internet applications, curriculum developer, training simulation engineer, leadership facilitator/coach, process improvement consultant, learning manager and organizational psychologist. I currently build and facilitate leadership and professional development courses at Yale. Really, I'm just a creator. I write, paint and play with woodworking tools that sometimes work together to make things.
When and why did you start writing books?
I wrote my first story when I was eight. It wasn't a good story, but if I traced my history, that's where I'd say it all began. Growing up, I was surrounded by books of all sorts and because my father was a professor of biblical languages, many of those books weren't in English. He also introduced me to Tom Clancy and Louis L'Amour, two authors I still enjoy. My brother later introduced me to J.R.R. Tolkien and Ray Bradbury and I've been a fan of both fantasy and scifi since.
What made you decide to tackle writing as a career?
I've considered myself a writer for most of my life, although if I had to pinpoint a time I decided it was a career, I would say (ambiguously) sometime in my teens. That was the point when I finally decided this is what I wanted to do with my life. I started writing stories outside of what had been assigned to me in high school and then studied the craft. When I finally published my first book, I was almost 40.
Which one of your books or characters is your favourite?
By far, my favorite book is All We Leave Behind: Transits of Three, and I probably should say it's because the character of Micah is very much me. There's a lot of emotion and character development in those pages, and I may have grown myself.
Which one of your books was the hardest to write and stretched you the most as a writer?
Beans of Anafi was a NaNoWriMo challenge for 2021. It wasn't the need to write 50,000 words in a month that challenge me, though. Instead, that literary magical realism book was written rigidly, sticking to Campbell's Hero's Journey. I kept wanting to veer off, but stayed the course, which stretched me the most.
Who is your favourite author and book?
I have to go with Ray Bradbury. I was a fan of his the day I stole my brother's copy of The Martian Chronicles and started reading about the "Rocket Summer." There are no words really to describe my complete fascination with that first opening chapter. By far, my favorite book by Bradbury is Dandelion Wine, and it's one of the few books I've read at least three times. Perhaps it was the description of the "Happiness Machine" I read about or the oration given about living the life we have now and not a life we can't have. Perhaps it was the feeling of being on a street in summer in Green Town, listening to the bees buzz, the apples fall, the susurrus of the wind through brilliant leaves... Whatever it is that gave me that feeling, I know it's important to retain. It is that feeling, in fact, that drives me forward, to look at the words on a page and want to put them in just the right order to pull readers into a story and drop them inside my own fantasy world, where gods do battle, princes and princesses run amok through ancient castles, monsters lurk in the woods at the very periphery of our vision.
What book are you reading right now?
Emotional Intelligence for Managers by Peter Salovey and David Caruso. It's actually part of research I'm doing for a book coming in the future, and since I work with David Caruso at Yale, it seemed like a good place to start.
Where do you get your inspiration for your books?
Everywhere! I read the news and science articles always asking "What if this was a story?"
What do you enjoy doing in your spare time?
Aside from being creative with whatever I can find (paper, paint, wood), I'm also a relentless learner. I can probably blame my father for that, as his goal in life was to get more letters before and after his name than in it. He managed to do so, and while I don't have the same goal, I will keep learning whatever I can. I don't ever want to break my Trivial Pursuit winning streak.
Do you have any new books in the works?
I just released a nonfiction book showing how weather can and should be used as a literary device. I also just released the first book in a new science fiction series set on a water-logged world. Write now, I'm deep into writing the follow-up to All We Leave Behind, and hope to have the first draft done by the end of June or (maybe) July.
Books by Benjamin X. Wretlind