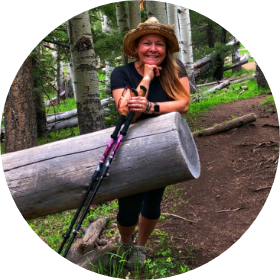 #Followers: 5
Follow
Carmen DeSousa
Author
ABOUT THE AUTHOR
Carmen DeSousa's stories overflow with romance, suspense, a hint of humor and, of course, a few Kleenex moments. After all, what would a great story be without an emotional event setting the stage? All of her novels are sensual but not erotic, gripping but not graphic, and will make you cry, laugh, love, and hope. Although some of her books include supernatural or ghostly beings, her stories dance on the edge of make believe.
As most authors, Carmen blames her leap into a full-time career as a professional writer on her love of reading. She states that reading has always been an escape for her. When life was rough as a child, she could always disappear into a book. But she found something else too... She discovered that writing out her thoughts was therapeutic. Not only could she create hope for her protagonists, but she could also do away with her antagonists—legally.
Carmen currently lives in "The Heart of Arizona" with her husband of twenty-nine years and a very spoiled "rescued" calico they lovingly refer to as "Baby Kitty," even though she's twelve years old. Carmen and her husband love to experience different areas, so they move a lot. They've lived on both of Florida's coasts: Cocoa Beach and Tampa Bay; Charlotte, North Carolina; Pittsburgh, Pennsylvania; Chicago, Illinois; Bullhead City, Arizona, the Northern Central Valley of California, and now Arizona's high desert. They're always looking for their next adventure, so they travel every chance they get. If you've read about a place in one of Carmen's stories, she's been there!
Most of her novels share her favorite hobbies, mostly, anything to do with the great outdoors. Both Carmen and her husband not only write, but also love to read outside—or a coffee shop if it's raining. And if the weather is really nice, they enjoy kayaking and hiking. Carmen says they rarely spend their days off at a movie theater or the mall. In fact, she hates shopping, and her husband would rather do anything than take her to a movie when she's already read the book.