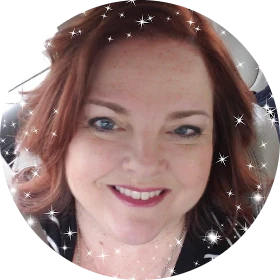 #Followers: 4
Follow
Denise Digh
Author
ABOUT THE AUTHOR
Dallas is a nurse by trade who always dreamed of being a novelist...and now that dream has come true! She is a Texan transplant who now lives on a Virginia lake with her husband, kids and 5 spoiled canines. When she's not trying to get her characters to tell her what to do next, she likes to create yarn colors and drink Margaritas - sometimes at the same time.
Follow her on her FB page and Instagram and sign up for her newsletter for updates on coming works, book excerpts, character teasers and lots of other fun stuff! Promise we won't spam you!
Dallas loves to hear from her book fans! Drop her a line at dallasryanwrites@gmail.com.
Tell us a little bit about yourself, your hobbies and interests.
Between work and writing, I don't have a ton of time for hobbies, but I do love to knit and crochet, and I dye yarn for other fiber artists. I'm also a huge bookaholic. I go through 3-4 books a week including reading and Audible. I'm waiting for my Kindle to cry 'mercy'. :)
When and why did you start writing books?
I started writing books in 2022. I wanted to write a book based on my great-grandmother's life who lived in the East Texas woods and was a badass! Somehow, that book turned into Collide, which is based on the town she lived in but has no characters based on her, then it just kept rolling into Unbroken, then Redeemed and two holiday novellas - A Gladewater Christmas and My Texas Valentine. Never even planned on publishing much less releasing a 5 book series in a year!
What made you decide to tackle writing as a career?
Technically, it's not my full time career...yet. The dream is to retire from nursing and write full time. I've got a ways to go but it feels more real than it ever has before
Which one of your books or characters is your favourite?
It's really hard to pick just one. I love Dani and Maggie the most. They are both so different. Dani is confident, swears like a sailor and has few boundaries when it comes to her friends. Maggie is a true Southern belle and a savvy businesswoman but also has a lot of self-doubt. I've really enjoyed seeing her come into her own. And the long friendship between the two, despite their differences, is something I really love. They are ride or die friends.
Which one of your books was the hardest to write and stretched you the most as a writer?
Unbroken was the most difficult to write overall. Honestly, I wasn't sure I really liked it by the time I got done but it's gotten the best reviews of any of them so far.
Who is your favourite author and book?
Diana Gabaldon - without a doubt. I am such a fan girl! I got to meet her once and thought I was going to cry from excitement! She is so lovely and gracious. She's also an amazing author. Pretty much the only books I reread again and again. Outlander and Voyager are too hard to choose between.
What book are you reading right now?
Oh goodness. Well, I'm listening to The Alliance Series Books 1-3 by Brenda K Davies in the car - A PNR vampire romance. I'm also enjoying Robert Crane's Girl in the Box Series - a paranormal adventure series. I didn't know when I started reading there are 52 books! I'm on 16 at the moment. I read a couple then go read something else, then come back. The romances I've enjoyed the most in the last couple of weeks are Ava Miles' Country Heaven and Kimberly Ann's Canadian Valentine.
Where do you get your inspiration for your books?
It sounds crazy but stories pop in my head out of nowhere most of the time. For example, two of my works in progress are a wolf shifter/viking/time traveling PNR (where that one came from I have NO IDEA!), and a clean, later in life/grumpy/sunshine/retired military romance which is inspired by some things one of my good friends has gone through the past few years. It's crazy town in my brain sometimes! LOL I do like to use places I know as background. I think it makes the story richer in detail if I'm describing a place I'm familiar with.
What do you enjoy doing in your spare time?
Sleeping! lol When it's warmer, I also enjoy fishing off our dock. And, of course, reading all the things!
Do you have any new books in the works?
Of course! 1. a wolf shifter/viking/time traveling PNR 2. a clean, later in life/grumpy/sunshine/retired military romance (under another pen name) 3. A steamy, small town, second chance romance. I hope to have at least 2 of them out Spring/Summer 2023. Cross your fingers for me!