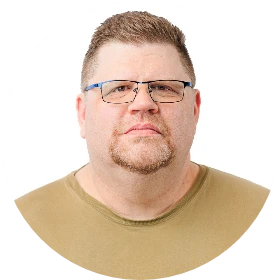 #Followers: 4
Follow
Daniel Pelfrey
Author
ABOUT THE AUTHOR
Daniel Pelfrey had dabbled in various occupations before finding his way to becoming an author. He'd served in the Air Force and held a supervisor role at one of the country's busiest airports through TSA. He even attempted to make ends meet as a dealer in blackjack--but with the risks that come with gambling, the grandeur of living off of the craft faded quickly. He then returned to college to pursue teaching, but that didn't pan out either. He eventually graduated with a Bachelor of Science in History from Black Hills State University, jokingly referring to it as a license to B.S. in History.
After all this, he decided to work in seasonal jobs that took him from Mount Rushmore in South Dakota to Mammoth Lakes, California and Medora, North Dakota--where he currently lives.

Tell us a little bit about yourself, your hobbies and interests.
I'm actually quite boring. Reading is one of my favorite things to do in any downtime I have.
When and why did you start writing books?
I thought I'd write non-fiction, researching history topics that interest me. In the end, I realized if I wrote fiction I could make lots of stuff up!
What made you decide to tackle writing as a career?
I have a degree in History, and over the course of my academic career, I wrote several papers about the American West. I turned those into my first book project. It doesn't really sell that many copies, but I'm proud of the effort I put into it.
Which one of your books or characters is your favourite?
When I started writing Project Aurora, I had this character named Katie and through her journey in that book assumed the identity of Hope Novak. She'd become tough, smart, and lethal. It was quite unexpected as I had other ideas when I began the writing process.
Which one of your books was the hardest to write and stretched you the most as a writer?
Benedict Altered. I started that one before Project Aurora. But I had this idea and knew I should follow it through. I then wrote Little Sister Lost and Sins of the Mother before I returned to Benedict Altered. It's entirely different from the others in every way possible. Many of the characters are actual people from history. Some are known, and others were taken directly from my family tree. While it's alternate history, I still had to do the research to get the era correct.
Who is your favourite author and book?
So many choices. I read a lot. I'm rather fond of the Ring of Fire Series by Eric Flint. I found the first book in the series, 1632, in a bookstore around the time it was released. I saw he was a 'local' author for where I was living at the time and decided to buy it. That and the cover really caught my eye.
What book are you reading right now?
The Fairytale Plague by Cameron Jace
Where do you get your inspiration for your books?
The news. The internet. Asking "what if..." about current events.
What do you enjoy doing in your spare time?
Spare time? What's that? Seriously, I work 40 hours a week (on overnights in the winter months) and write on the side.
Do you have any new books in the works?
I'm working on a "Hope Novak" story at the moment.