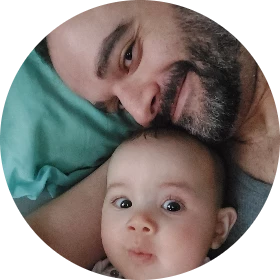 #Followers: 1
Follow
G.C. Camacho
Author
ABOUT THE AUTHOR
My name is G. C. Camacho, I'm an independent author from Southern Ontario, Canada.

My education was in Film and TV but I feel I've found my niche in writing novels. A good chunk of my life has been spent letting my imagination run wild immersed in books, movies, TV shows, video games and tabletop RPGs. My big inspirations include Final Fantasy 7, Warcraft, Star Wars, Mass Effect, The Witcher and Kill la Kill.

I'm channelling my passion for fantasy and science fiction into this burgeoning collection of stories and artwork. The goal is to pour my heart and soul into creative works that mean a lot to me in the hope that they resonate with others.
I want to craft stories that make people feel. I hope they relate to the characters and find strength in their struggles. I hope readers laugh out loud on quiet trains and ugly cry when reading in their beds at night.

I couldn't do any of this without the help of my loving wife, Devin, my daughter, Isabella, my family and my pet rabbit, Cookie.