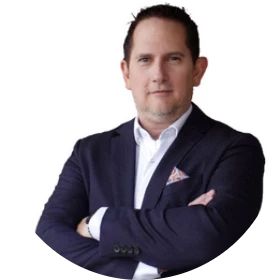 Follow
Joe Paranteau
Author
ABOUT THE AUTHOR
Joe Paranteau is a leading expert on sales performance. He has led close to thirty thousand sales calls with the world's most valuable companies. Within five years, Joe sold more than $1B in revenue, which motivated him to share a wealth of sales insights. As a result, he wrote his first book, Billion Dollar Sales Secrets, to guide others to develop their own success story. It's timely, with fine-tuned advice to help develop bold, new sales habits in a recovery economy. If you require high-energy, motivational keynotes that compels audiences to take action – then you'll want to connect with Joe. His practical strategies and stories will create connections with your audience and a perfect addition to annual sales meetings or retreats. But, it's not about Joe. Instead, he masterfully unlocks your team's potential waiting to be unleashed. As a professional communicator, he responds and adapts to the needs of his audience in virtual, live, or mixed hybrid venues. When you dig deeper into his background, you discover his success has been forged through adversity and hustle. As the first generation to live outside of an Indian reservation, Joe's family didn't have much and struggled. His first sales job was painting rocks and selling them door-to-door when he was eight years old. He served in the US Air Force to fund his education. Joe has an MBA with a specialization in Family Business and Entrepreneurship and a BA in Speech Communication. Plus, he has worked in many exciting jobs from newspaper delivery, dishwasher, firefighter, a Sea World trainer, and a Governor – all before starting his 28-year professional career in sales. It's rare to have an indigenous author pen nonfiction business books. Still, Joe has learned to succeed despite barriers and boundaries. Today, he is a sales leader at Microsoft. He's a trendsetter, dynamic speaker, visionary, deep thinker, creative, and insatiably curious. In addition, he has a strong background in healthcare, aviation, and technology. He has over sixteen certifications in sales methodologies and industry. Joe lives in North Texas with his family. When he's not working, he enjoys skiing, traveling, deep-sea fishing, writing, and is a pilot and aviation enthusiast. He also founded a real estate business. Joe embraces optimism. He is proud of his heritage, history, and accomplishments—and he's only getting started!
Tell us a little bit about yourself, your hobbies and interests.
I am a husband and father of two teenagers, and a fluffy border collie named Luna. I've lived all over the world - both east and west coasts, and in the midwest. My family is from Montana and Canada. I'm an indigenous American and a member of the Little Shell Tribe of Chippewa-Cree. In Canada, we are Métis with strong French heritage as well. I served for eight years in the US Air Force and lived in Europe and many countries around the world. Today, I work for Microsoft as a sales leader. I love helping businesses harness technology to help them transform. I also have many hobbies! I'm a private pilot, love to travel, enjoy college football, am a foodie (and bring the wine too). I also practice krav-maga, and love to synchronize my Christmas lights to music every year (yes - I'm that guy)!
When and why did you start writing books?
I'll never forget the first time I went into a library. It was magical. The smell of the books was something new and exciting. I saw people engrossed in them. At that time, my goal was to read everything I could get my hands on. My love of reading has become a strategic advantage. I've learned I can teach myself anything and am a voracious reader who reads at least two books a week. When I decided to start a sales career, I read everything I could. I blended my indigenous roots and communication science. I then added my love of reading to develop a unique approach to selling. Of course, I thought nothing of it. But my customers did. And my peers also came to me for advice. I started having people say to me, "you should write a book." I ignored them for a while. I didn't think I had anything to add that was special. But I pushed myself to sell against BIG BOLD GOALS. After I sold more than a billion dollars, I decided to introduce myself to the world. My first book was available on March 5th, 2021.
What made you decide to tackle writing as a career?
I am still tackling writing as a career. I enjoy speaking to audiences. When I am on stage, that is when I am in the zone! After writing a book, I am encouraging everyone to write a book. We all have stories worth sharing. I loved the process. I made every mistake a writer could make, and the project took me three years. I wanted to make sure I was GIVING something very special to my readers. I profiled my audience for a year, and now I am getting to meet them face to face and know their stories. They tell me how I've touched them, inspired them, or helped them develop in a new way. Writing is intoxicating!
Which one of your books or characters is your favourite?
My favorite character in my book is someone who I disguised their identity. The story I tell about them was how they mishandled a sale. No one wants to see that in print. This person is one of the most colorful people I've ever met, and I have immense respect for them.
Which one of your books was the hardest to write and stretched you the most as a writer?
I'd say my first book, Billion Dollar Sales Secrets stretched me. I spent nights, weekends, and did lots of research - all while I was getting my MBA at night as well. It was a super stretch!
Who is your favourite author and book?
My favorite author is God, and the book is a generational bestseller - The Bible. I've read it many times and always discover something I can apply that changes me. It's also got some great humor in it too. Take the story of Noah. After being up on that boat with family and all those animals, he got drunk and took his clothes off. Anyone who has been around extended family can relate to the emotions Noah must have felt.
What book are you reading right now?
I finished Killers of the Flower Moon by David Grann. It's a story of the formation of the FBI and a sad era in history. Martin Scorsese has adapted it to film, and I know many Osage tribal members. It's a painful story of injustice we all need to hear.
Where do you get your inspiration for your books?
I write business books and research people on the cutting edge of their fields. To do this well, I try to get different perspectives across an organization. I'll interview front-line employees, middle managers, senior executives, C-levels, board members, and investors. It's easy to write about your own beliefs and experiences. But, it's more informative to have a 360-degree view of a topic. I'm also a futurist. I wrestle with new ideas. My process extends innovative thinking by deconstructing, then creating new ideas. I draw inspiration from non-traditional sources by exploring the history and the arts. I love biographies, but even more, I enjoy studying people and their stories.
What do you enjoy doing in your spare time?
I love hiking! I am always in search of new trails and adventures. In ski season I love to ski. I was an NCAA collegiate alpine skier. I also like to travel, deep-sea fish, read, and spend time with friends.
Do you have any new books in the works?
I do. I have another one that is less than a year away. I also have many more surprises, some may be hitting the market soon. All will build on my first book.