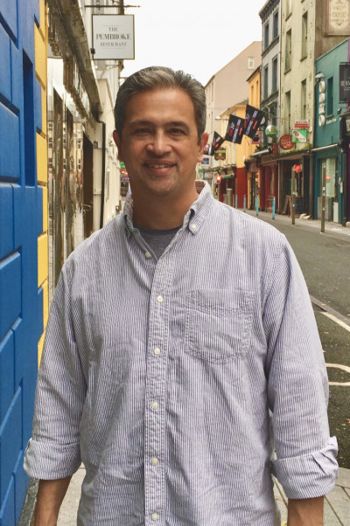 #Followers: 2
Follow
Kal Smagh
Author
ABOUT THE AUTHOR
A three year writer for his college humor magazine, Kal Smagh is a Beatles enthusiast, and merges both of these passions in crafting fun Beatles stories.

A Cozy Beatles Mystery - Larceny in Liverpool is his first novel and first in his humor-mystery series, released in April 2021. Other books in the Cozy Beatles Mystery series include: Mayhem for Her Majesty (set in 1963 London), released May 2021, The Beverly Hills Beatles Burglary (set in 1964 California), releasing in June 2021, and The Beatle Car Bandits (set in 1965-1969 London) releasing in July 2021.

Kal was raised in Colorado and lives in Atlanta, Georgia.

Message Kal at Author.Kal.Smagh@Gmail.com

Tell us a little bit about yourself, your hobbies and interests.
Hi Everyone, I am Kal Smagh. I grew up in Colorado and live in Atlanta. I like comedy, writing and reading. I also enjoy the Beatles and rock music, and playing sports. (My last name is pronounced 'smog')
When and why did you start writing books?
I have been writing for few decades and recently decided to publish. As a 9 year old kid I wrote a science fiction story longhand on notebook paper and kept it through a few family moves. In high school I turned it in for a class short story and got an A. I write for fun.
What made you decide to tackle writing as a career?
I write in my spare time. It's my hobby and I do it to have fun and hopefully help others to get a break from their troubles.
Which one of your books or characters is your favourite?
My new book, Mayhem for Her Majesty has a main character, Helen Spencer. She is a Beatles fan and also an amateur sleuth who solves mysteries for the Beatles in 1960s Britain and in the USA. She's a fun character who gets in over her head often. She is trying to make sense of the phenomenon of the Beatles. The stories are based on fact about the Beatles, and Helen is fictional. She is the feature character in the series with John, Paul, George and Ringo, and has a quirky mum and engineer father. She's super smart, and began working for the Beatles in their fan club mailroom. Obviously she's going to grow a lot in the series.
Which one of your books was the hardest to write and stretched you the most as a writer?
The follow on to Mayhem for Her Majesty is The Beverly Hills Beatles Burglary. Researching that one was a lot of fun. It forced a lot of reading on the Beatles which was a labor of love.
Who is your favourite author and book?
I am a fan of Patti Smith, Roberto Bolano and Charles Bukowski. Ernest Hemingway and Chuck Klosterman as well.
What book are you reading right now?
I am reading Haruki Murakami and a few by Jack Kerouac. I throw in as many humor books as I can as well. My favorite Beatles fiction is Paperback Writer, a spoof novel from the 1970s.
Where do you get your inspiration for your books?
Listening to music, everything from rock to classical to soundtracks. To me writing is like gardening...you dig the soil and plant the seeds, then water and watch it grow. My fingers get less dirty while writing. I get the same satisfaction.
What do you enjoy doing in your spare time?
Playing guitar, walking my dog, visiting with family.
Do you have any new books in the works?
After I finish The Beverly Hills Beatles Burglary I will write the next one: The Beatle Car Bandits which will release in July 2021. Then I will turn back to a fantasy book about the art world I have as a first draft from 2020. I'm looking forward to more writing.