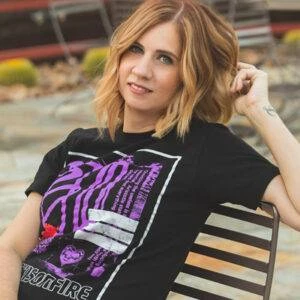 Follow
Lauryn Dyan
Author
ABOUT THE AUTHOR
Lauryn Dyan is a marketing professional by day, an author and graphic designer by evening, and a fanatical concert enthusiast by night. She has written album reviews, conducted interviews, and penned columns focused on the rock scene for an independent music magazine as well as her own blog as a way to legitimize her desire to share her music opinions with others. When not busy with one of her many gigs, she is working on or at least thinking about her next great story that will keep you guessing.

Tell us a little bit about yourself, your hobbies and interests.
I am one of those people that tells you what I do for a living... then tells you what I do on the side... then tells you what I manage in my household... then tells you what I do for fun... and then you're left asking "when does she actually write?" Answer: In the wee hours of the night.
When and why did you start writing books?
When my husband was gone a lot on the weekends, and I was too old to party all night but too young to go to bed early, I started writing. I needed a hobby I could be passionate about that I could do at my own pace and super late after all my other must-do stuff was knocked out.
What made you decide to tackle writing as a career?
When I realized that when I wasn't writing, I was thinking about writing, or researching something writing-related. Writing started bleeding into the daylight hours and I knew I was addicted and needed to see if I could do something more with it than fool around in Word at midnight.
Which one of your books or characters is your favourite?
I have a secondary character in my work in progress named Aiden who is a larger-than-life, humourous, borderline-inappropriate, rock star with hidden talents. He is so much fun to write!
Which one of your books was the hardest to write and stretched you the most as a writer?
My debut novel, Hollow Stars. I had no problems writing the music scenes, but I wanted authenticity in the scenes that take place in a psychiatric hospital so I interviewed a former psych nurse and did a lot of research to make it plausible. My web browser probably thinks I have multiple personalities and an obsession with medical restraints!
Who is your favourite author and book?
Pride and Prejudice by Jane Austen. It is the first book I ever enjoyed enough to reread later.
What book are you reading right now?
The first Bridgerton novel by Julia Quinn. That tracks based on my love for Austen, no?
Where do you get your inspiration for your books?
When I listen to a song, I like to imagine my own version of its music video. Sometimes, an idea can spark from there. And like all authors, I also draw on my own experiences and the personalities of my friends and family.
What do you enjoy doing in your spare time?
I love to binge-watch scripted TV, especially teen dramas. I also go to a lot of concerts, collect vinyl, and try to keep up with releases from my favorite artists. And read, of course.
Do you have any new books in the works?
Yes! An urban fantasy. I'm on about my 30th round of editing and pray to be done soon.