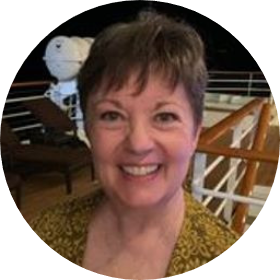 #Followers: 11
Follow
Pat Adeff
Author
ABOUT THE AUTHOR
Pat Adeff writes sweet romances about second chances - with just a hint of spice!
She's also written several laugh-out-loud comedies which have been produced in theaters from California to New York. She loves writing, reading, and cooking. If you sign up for her newsletters, you'll probably find a few of her favorite recipes attached.
Pat is an incurable romantic and definitely believes in second chances and happily-ever-afters. In fact, several years ago she found her own second chance! She and her composer husband recently moved from NYC to Largo, FL and are enjoying the sunshine!
https://www.patadeff.com
Second Chances DO Happen Series: amazon.com
Book 1 - Take Another Chance
Book 2 - Mahi-Mahi Matrimony
Book 3 - The Romance Writer and the Geek
Book 4 - Doctor's Orders
Book 5 - In His Arms
Book 6 - A Christmas Kiss
Boxed Set - https://www.amazon.com/dp/B0BSMGK585
Tell us a little bit about yourself, your hobbies and interests.
I was raised in a theater family; my folks met on the set of Arsenic and Old Lace at the Redlands Footlighters Theater in Redlands, California. Our living room was always filled with costumes. Our dinner conversations were centered around running lines for whoever was in the next production.
When and why did you start writing books?
I wrote my first book over 30 years ago. Our first daughter was just about 6 months old and I got inspired to write something. So, after her nap and her lunch, I placed her in one of those Jolly Jumpers with lots of padding in the seat around her and sat right there at the table in front of her. She seemed to be thoroughly enjoying the jumper and the story just flowed from me. I was typing on an old Smith Corona typewriter. After what seemed maybe an hour, my husband came back in the front door. I looked up and asked him what he was doing home already. He replied, "Already? It's 5 o'clock. I'm home for dinner!" My daughter had enjoyed herself in that jumper for over 3 hours! And I had knocked out 12 chapters. I finished that book about a doctor and his new assistant and gave it to a friend to read. She moved and I never got it back! So, somewhere out there is my first book, typed on paper. Twenty years later, after a divorce, I turned to writing to help heal me. That book became the first in a 5-book series about second chances. I think my own book inspired me to try again with love, and it worked! I've since found and married the perfect man for me!
What made you decide to tackle writing as a career?
I want to make enough money with my writing to retire my husband from his computer programming job so he can focus on his music full time! We've also been co-writing a musical and want to see it on Broadway!
Which one of your books or characters is your favourite?
Her name is Maddie and she is one of the main characters in a 3-generation family saga called "The Summerside Inn." It should be coming out this next year.
Which one of your books was the hardest to write and stretched you the most as a writer?
"Charley and the Harley." My brother had an idea for a fantasy set in modern times about a guy, Charley, who has lost everything but has a recurring dream that comes true. It involves a Harley-Davidson motorcycle and a romance with the woman from his dreams. The romance part was easy. It was writing a different genre that had me stretching my writing chops.
Who is your favourite author and book?
This is a tough question - there are SO many! Okay, okay. Jude Deveraux's "Wishes."
What book are you reading right now?
"Runaway to Romance" by Cathryn Brown.
Where do you get your inspiration for your books?
Everywhere! One example: My husband and I were visiting Aruba when I was struck with the idea of a secret billionaire fishing boat captain and a jilted bride. That swiftly turned into "Mahi-Mahi Matrimony." Another example: I was having trouble with my computer when the story of The Romance Writer and the Geek" came to me.
What do you enjoy doing in your spare time?
I love to cook! My husband and I started watching the Food Channel. One of the shows is called "Chopped." If you don't know, it's where 3 contestants are given food baskets with 3 or 4 odd food items and they have to construct a meal from them. It reminded me of standing at my refrigerator with the doors wide open and not finding any food - only ingredients. Dinnertime became my time to win the Chopped competition.
Do you have any new books in the works?
Yes! I've relaunched my first book, "Take Another Chance," as the first book in a 5-book series. The second book is "Mahi-Mahi Matrimony." The third book is "The Romance Writer and the Geek." The fourth book is "Doctor's Orders." The fifth book is "In His Arms." I'm also working on a children's book called "Hello, My Name is Apollo. Can I Sniff You?" I started this after our rescue Great Pyrenees, Apollo, crossed that rainbow bridge at almost 12 years of age this past year. It was devastating to lose him, so I turned to writing about him. That turned into a children's book about the escapades that Apollo got into over all his years with us. Also, "The Summerside Inn" should be completed this next year as a standalone family saga novel.