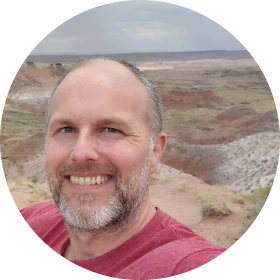 #Followers: 91
Follow
William Bahl
Author
ABOUT THE AUTHOR
William Bahl is an author, narrator, and tiny home enthusiast. Currently, William is working on a multi-series epic adventure entitled Disrupted Equilibrium. Check out the series available from many popular retailers. Converting a school bus into a tiny home on wheels with his significant other, William will soon be traveling the country year-round.

Tell us a little bit about yourself, your hobbies and interests.
I grew up in Sterling, Alaska and moved to Fresno, California to attend college after graduating high school. I became a high school teacher upon graduating from college and taught for eight years in Fresno. A bout with alcohol ended my teaching career and family in one fell swoop. I moved back to Alaska, as did my ex-wife and our two young daughters. I bounced around between various jobs for several years before taking a chance on narrating a book for a friend. I discovered I enjoyed narrating books and started finding gigs allowing me to pursue that career option. After narrating for several years, I felt an unexplainable urge to begin writing and narrating my own books. My imagination knows no limits. Ideas circulate around on a continuous basis and I wanted to try my hand at putting those ideas to digital paper. End Game (Book 1 of Disrupted Equilibrium) represents my first attempt at writing a full length novel. Three more books in the Disrupted Equilibrium series followed after that. With each book, my writing skills improve and I refine my ability to tell an engaging story. Together with my significant other, I bought a school bus in Georgia and converted into a tiny home on wheels. You can follow our adventures @OUR_ROLLING_OASIS on Instagram. We travel full-time around the country and work remote and seasonal jobs to pay our way. I will add to this section over time so please check back on occasion for updates.
When and why did you start writing books?
I started writing books because I had stories to tell and I wanted to see if I could do it.
What made you decide to tackle writing as a career?
I don't think of writing as a career. I write because I want to tell stories. If writing becomes my career, fantastic. I will continue to write either way.
Which one of your books or characters is your favourite?
I put bits and pieces of myself and/or my experiences into each character to make them real for me. I like each character for different reasons. Some of them challenge me to look at myself from an unflattering perspective. That's part of the writing experience as well.
Which one of your books was the hardest to write and stretched you the most as a writer?
The current book I am writing stretches me in new and unexpected ways. It represents the first book in a new series and I intend to publish it within the next few months.
Who is your favourite author and book?
So many. I enjoyed The Warded Man by Peter V. Brett. I also read The Desert Spear by the same author (part two of the series). Both of these books presented a fantasy world unfamiliar to me and full of fascinating characters.
What book are you reading right now?
I am re-reading several books from several years ago, including The Warded Man.
Where do you get your inspiration for your books?
Things around me inspire, as do off-the-wall notions in my head. I write a lot of paragraphs and pages throughout the day. Sometimes those writings turn into books.
What do you enjoy doing in your spare time?
Traveling around the country and seeing new things. I also enjoy revisiting favorite spots.
Do you have any new books in the works?
Yes, I am working on The Debt Collector (Book 1 of the Form Series). A work in progress and subject to numerous revisions, you can read draft chapters at: https://www.campfirewriting.com/explore/6371be43ae686849c6186e8e