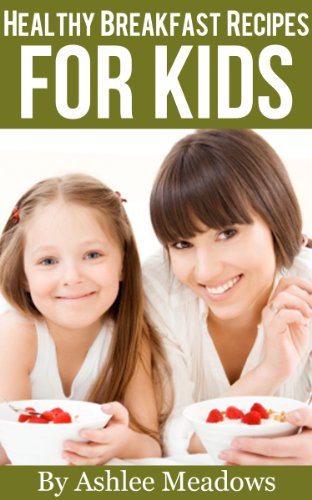 Healthy Breakfast Recipes For Kids: Quick & Easy Meals For Healthy Children, Parenting Has Never Been More Easy. (Healthy Recipes For Kids Book 1)
$2.99
(Please be sure to check book prices before buying as prices are subject to change)
Healthy Recipes For Kids

You might have heard that breakfast is the most important meal of the day, but have you ever asked why that is? Breakfast has been touted by experts as the "fuel" necessary to start the day off on the right foot. Rather than just a saying, there is scientific proof that breakfast really does give our bodies and brains a kick-start. That is especially true for children.

Numerous studies into the benefits of breakfast have made it clear that your child needs this valuable meal in order for the rest of the day to be productive. A good breakfast is proven to lead to higher test scores, better school attendance and better behavior, both in class and out. It also leads to much better overall nutrition and easier weight control. Making breakfast a habit means that your kids are much more likely to continue eating breakfast when they are older, and that means the benefits last well beyond the school years.

Besides that, consider breakfast as a great time to connect. Whether you are sitting down to a leisurely breakfast on the weekend or giving the kids a quick meal while you drive them to the bus stop, breakfast can be a time for you to get insight into their day.

So without further ado, let's get started with great recipes that can make breakfast a healthy snap for busy moms!

Some of these great dishes can be made ahead and tucked into the fridge overnight. Others can be whipped up in just a few minutes, perfect for the busy before-school rush mornings. Still others take a bit more time, and are perfect for a leisurely breakfast on the weekend.

Completely strapped for time? There are even "on the go" recipes here, which are great as a take-along breakfast while you are driving the kids to school or walking them to the bus stop. From smoothies packed with all the right things to yogurt topped with savory goodies, these recipes are a life-saver for those who are always running a little late.

Finally, keep in mind that many of these recipes, such as the crepes or muffins, can be made ahead of time and frozen for a quick, microwave-heated meal that is nutritious and hearty. These are proof that breakfast doesn't have to be a big production in order to be healthy!

Digital Books

Book Length: Short Story – 0-60 Pages
More Books in this series from Ashlee Meadows
Leave a review about Healthy Breakfast Recipes For Kids: Quick & Easy Meals For Healthy Children, Parenting Has Never Been More Easy. (Healthy Recipes For Kids Book 1). Login Now