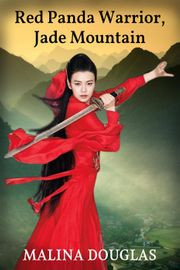 Red Panda Warrior, Jade Mountain
$2.99
(Please be sure to check book prices before buying as prices are subject to change)
Tang Dynasty, 637 AD. When dragons were revered and some women became warriors...
Xiu has never left her village and can barely make dumplings, yet she finds herself in a secret training academy on the slopes of the Jade Mountain. When her destiny, inscribed in oracle bones, is revealed to her, she refuses to believe it. Put through rigorous training, Xiu must become a warrior, but her movements are clumsy and she is plagued by self-doubts.
As an army amasses to invade the Imperial city of Chang'An, Xiu and her elite corps of women warriors must ride into battle. Xiu will have to overcome her jealousy, face her fears, and discover her unique strengths, or her enemy will bring the mighty Tang Dynasty to ruin.
An empowering story of friendship and courage in a lush historical setting with a splash of the speculative.
Digital Books



Gumroad
ASIN:
B09K6W8NNF
ISBN:
9798201445034
Book Length: Novella – 60-150 Pages
Leave a review about Red Panda Warrior, Jade Mountain. Login Now