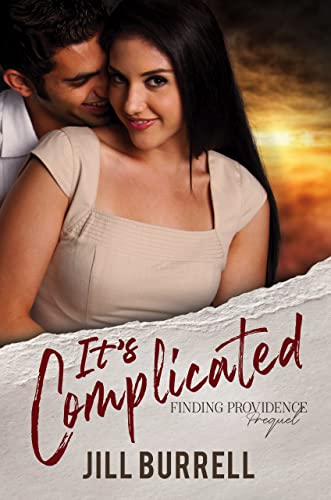 It's Complicated: An Opposites Attract Office Romance (Finding Providence)
By Jill Burrell
$2.99
(Please be sure to check book prices before buying as prices are subject to change)
He's an over-achieving perfectionist. She doesn't tolerate bossy men.
Grant
Foster is organized, focused, and hardworking—or as his younger sister
calls it, neurotic. When the opportunity of a lifetime—becoming the Vice
President of Marketing—is within his grasp, he is determined to
succeed. He must rely on the help of an accomplished and beautiful
coworker to achieve his goal. A coworker who is as distracting as she is
talented. 
Failure isn't an option for Celeste Hightower. She's
had to work too hard to get where she's at. Working with the man she's
had a crush on for the past four years is just another hurdle she needs
to cross. Too bad fear of failing keeps her from chasing her true
dream. 
A workplace romance is a bad idea—they rarely work out.
And Grant doesn't break the rules. Especially with so much on the line.
He needs Celeste's help to connect with his younger siblings, though,
and she needs moral support to face her estranged father again. The more
they work together outside the office, the blurrier the lines become.
When Celeste finds out she's been living a lie, and Grant's younger
sister goes missing, their relationship is put to the test.
Digital Books

ASIN:
B0943231BL
ISBN:
9781955507004
Book Length: Novel – 150-320 Pages
More Books in this series from Jill Burrell
Leave a review about It's Complicated: An Opposites Attract Office Romance (Finding Providence). Login Now