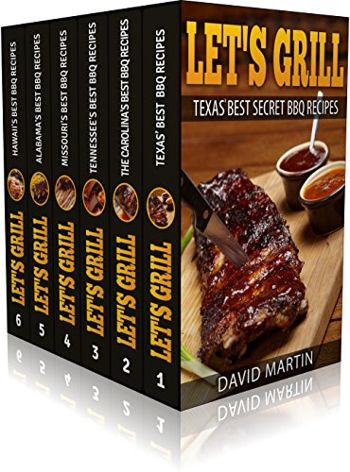 Let's Grill! Best BBQ Recipes Box Set: Best BBQ Recipes from Texas (vol.1), Carolinas (Vol. 2), Missouri (Vol. 3), Tennessee (Vol. 4), Alabama (Vol. 5), Hawaii (Vol. 6)
By David Martin
Free

$2.99

(Please be sure to check book prices before buying as prices are subject to change)

---
If you Love BARBECUE, this New Book Set Will Make you HAPPY! Bring the BBQ Flavors of Texas, the Carolinas, Missouri, Tennessee, Alabama, and Hawaii to your backyard with over 250 recipes full of flavors!
EXTREME VALUE - 6 BOOKS in 1
Download FREE with Kindle Unlimited
Book 1: Texas' Best Secret BBQ Recipes
Inside, find:

• Uncover great beef BBQ recipes that will make you salivate just thinking about them.
• No BBQ is complete without the king of all barbecue dishes, the pork!
• Let's not forget about all the tantalizing poultry recipes.
• Tasty fish and seafood recipes.
• It's not a meal without side dishes, Texan style!
• Finish up the perfect BBQ meal with sweet desserts.


Book 2: Carolinas' Best BBQ Recipes
Inside, find:

• Delicious barbecue recipes built around bringing out the flavor of the meat – and fire. Find out the best ways to cook pork, beef, poultry, and wild game.
• Detailed instructions and easy-to-follow steps that give you the succulent taste of Carolina BBQ right down to the smoky wood chips in a form you can easily achieve at home.
• Let's not forget the memorable side dishes to complete your barbecue feast!
• And give your BBQ the ultimate send-off with decadent desserts done right in the traditional southern style.


Book 3: Tennessee's Best BBQ Recipes
Inside, find:

• Masterful pork BBQ recipes
• Barbecues beef recipes your family and friends will ask you the recipe for!
• Mouth-watering chicken dishes,
• Delightful fish and seafood meals,
• All the sides you need for a perfect BBQ fiesta!
• Desserts that will have your guest asking for more…


Book 4: Missouri's Best BBQ Recipes
Inside, find:

• Heavenly pork recipes you will make again and again like the Stickiest-Ever BBQ Ribs with Chive Dip.
• So good, it melts-in-your-mouth beef recipes like KC-Style Burnt Ends.
• Mouth-watering poultry dishes such as Lemon Pepper BBQ Grilled Chicken.
• Soulful fish and seafood recipes including Dill Weed Trout on the Grill
• Sides to make any barbecue a joyous feast like Succotash.
• The perfect finishing sweet touch like Gooey Butter Cake


Book 5: Alabama's Best BBQ Recipes
Inside, find:

• King of Alabama's BBQ pork recipes like the Pork Shoulder with Pecan infusion.
• Favorite chicken recipes such as the Southern Style Chicken Sliders.
• Satisfying beef recipes like the Sticky Beef Ribs.
• Delightful Fish and seafood dishes like the Alabama Grouper Tacos
• All-star sides like the Refrigerator Dill Pickles or the 'Bama Slaw
• Easy to make desserts like the Old South Sugar Cake or the Buttermilk Pie


Book 6: Hawaii's Best BBQ Recipes
Inside, find:

• Tasty appetizer recipes like the Pineapple Rumaki or the Mango Chicken Skewers
• Savory chicken recipes like the Shoyu Chicken or the Mochiko Chicken on the Grill
• Delicious beef recipes like the Pacific Carne Asada or the Hawaiian Beef Teriyaki
• Great pork and spam recipes like the Grilled Spam Burgers with Cilantro Slaw or the Grilled Kalua Style Pork
• Refreshing fish and seafood recipes like the Perfect Grilled Moonfish or the Grilled Mahi Mahi Tacos
• Masterful vegetable and side recipes like the Hawaiian Baked Beans or the Caramelized onion Maui Rice
• Easy to prepare Island desserts like the Haupia or the Kulolo


Let's get to our barbecues and smokers and start cooking!
Scroll back up and click buy for an instant access!

Read on your Kindle, IPhone, IPad, Android tablet and cell phone, laptop, or desktop computer with Amazon's free Kindle reading app.
Read More...
---
---
Leave a review about Let's Grill! Best BBQ Recipes Box Set: Best BBQ Recipes from Texas (vol.1), Carolinas (Vol. 2), Missouri (Vol. 3), Tennessee (Vol. 4), Alabama (Vol. 5), Hawaii (Vol. 6).
Login Now