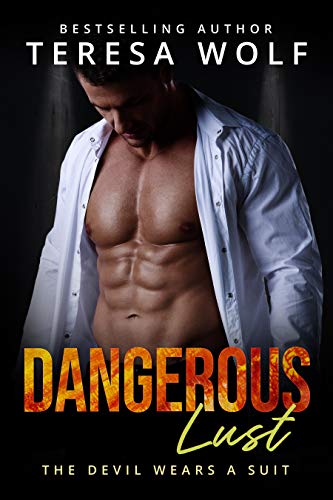 Dangerous Lust: An Alpha Billionaire Romance with a Side of Mystery (The Devil Wears a Suit Book #1)
By Teresa Wolf
Free

$0.99

(Please be sure to check book prices before buying as prices are subject to change)

---
Are you in the mood for a Steamy Alpha Billionaire Romance?
Teresa Wolf pens another provocative book, "Dangerous Lust: The Devil Wears a Suit". In remarkably spicy details, Wolf explores the lives of two people from different worlds. Her talent for bringing danger and rapture to life leaves readers wanting more.
Things started to take a turn for the dangerous when the stunning Hope Bridges met charming billionaire Gabriel Lark. Gabriel couldn't resist the strong gravitational pull that the beautiful seductress emanated. And it didn't take long before the two allowed their mouths and hands to explore each other's bodies.
As the hours passed, tragic events soon followed. April Forman, Hope's friend and housemate was found murdered in her hotel room. And Hope vowed to figure out who did it.
It seems that this once hot and steamy chance encounter is slowly, but surely, turning fatal. What does fate have in store for the two love birds?
Wolf consistently provides a fresh take on strong women falling in love with troubled billionaires. And if that sounds like your genre, then this book will not disappoint!
Grab Your Copy Now, and Find Out What Happens to Hope and Gabriel!
Dangerous Lust is the first book in the Devil Wears a Suit series, an intricately crafted mystery romance filled with suspense, palpable sexual tension, passion, and many unexpected twists. A Story that will always keep you on your toes and leave you yearning for more. These books need to be read in order.
Read More...
---
---
Leave a review about Dangerous Lust: An Alpha Billionaire Romance with a Side of Mystery (The Devil Wears a Suit Book #1).
Login Now

© 2022 CraveBooks. All rights reserved