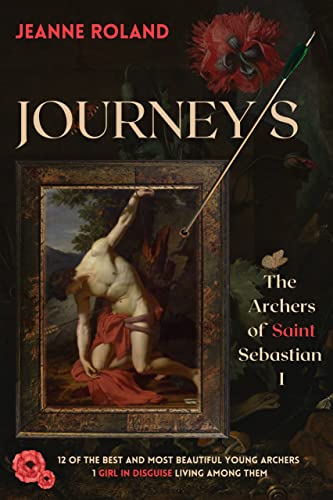 Journeys: The Archers of Saint Sebastian
$2.99
(Please be sure to check book prices before buying as prices are subject to change)
15-year-old Marieke is as obsessed
with the archers' guild of Saint Sebastian as everyone else in Ardennes. Here twelve
of the best and most beautiful young Journeyman
archers compete every year for a coveted spot on the prince's bodyguard. But when Marieke flees to the
guild for refuge, there are only two things she really knows about the place.
One is that a mysterious accident ended her own father's chances as a Journey.
The other? There are no women allowed inside Saint Sebastian's.

Disguising herself as a boy to infiltrate the guild means embarking on a
dangerous deception. But when the charming Journeyman Tristan takes her under
his wing as his squire, Marieke's got to stay – at
least long enough to help him beat out his brutal arch-rival to win the
competitions. Keeping her identity a secret
will be hard. Living in close quarters with a pack of gorgeous boys? That will
be harder still. But the hardest thing of all will be keeping the vow she makes
for herself: to see Tristan become the next Guardsman, without ever letting him
find out she's a girl who loves him.
Digital Books

ASIN:
B09L6KZ8D7
ISBN:
978-1737887003
Book Length: Long Novel – 320-650 Pages
Leave a review about Journeys: The Archers of Saint Sebastian. Login Now