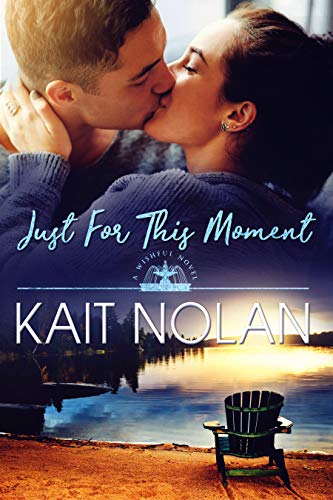 Just For This Moment: A Small Town Southern Romance (Wishful Romance Book 4)
By Kait Nolan
$4.99
(Please be sure to check book prices before buying as prices are subject to change)
A madcap modern marriage of convenience tale sure to leave fans begging for more

Maybe there hasn't been actual blood, other than a few paper cuts, but Myles has put plenty of sweat into his independent, local newspaper, and he's even willing to admit to a few manly tears. Certainly, the paper has been his mistress since he moved to the small town of Wishful, Mississippi, and he doesn't feel it's hyperbolic in the least to say it owns a piece of his soul. He's building his dream, independent of the life laid out for him by his family, and that means everything. There's nothing he wouldn't do to ensure its success.

Piper fell hard for Myles when they co-stared in the production of White Christmas that saved Wishful's historic Madrigal Theater. Not in love, she's careful to remind herself, but into very serious like, and certainly outrageous, chemistry-fueled attraction. But Piper knows that the bright lights of the stage can wreak havoc with perspective. She's been burnt by them before, when an on-stage passion fizzled into disappointment and heartache. That's why she put on the brakes with Myles, and she admits to herself that the fact that he played by her rules and waited only adds to his appeal.

When Myles tells her that a major investor is pulling out of the paper, leaving him with a huge loan to repay or lose his control over what he's built, Piper is devastated for him. But when he jokingly admits that the best option he's come up with is to marry a showgirl to gain access to a trust fund, well, that just sounds like a plan to Piper. After all, why not take this great guy on marriage test drive? He's worth having just for this moment, however long it lasts. But as their fake marriage turns alarmingly real, they'll have to decide if they're in it for the moment or forever.

Welcome to Wishful, Mississippi, a small town with big hearts, where folks come together to make their dreams come true. We first met Myles and Piper when they auditioned for White Christmas in BE CAREFUL, IT'S MY HEART, when another of Piper's zany schemes helped bring her friends Tyler and Brody together. We followed their story in THE MATCHMAKER MANEUVER, a newsletter exclusive novelette, which tells the story behind Piper's cooling off period. But if you haven't read either of those, don't worry about jumping in here. Every Wishful story can stand on its own, just like the sassy women of this charming, southern town.

Digital Books






Eden Books

Audiobooks
Free



Chirp


Book Length: Novel – 150-320 Pages
More Books in this series from Kait Nolan
Leave a review about Just For This Moment: A Small Town Southern Romance (Wishful Romance Book 4). Login Now